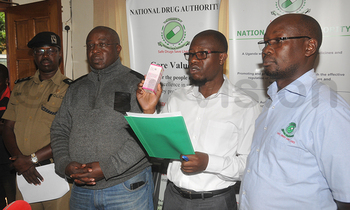 The National Drug Authority (NDA) enforcement officers with the support from the Uganda Police Force in a one-week operation closed 138 drug shops over illegal operations and arrested four people.
The operation that went to 14 districts in the eastern region and saved an estimated population of 50,000 from unqualified health personnel who are operating unlicensed drug shops.
The operation took place in the districts of Bugiri, Buikwe, Bugweri, Buyende, Iganga, Jinja, Kaliro, Kamuli, Kayunga, Luuka, Mayuge, Mukono, Manayingo and Namutumba.
According to the NDA's head of enforcement, Samuel Kyomukama, two of the four suspects were arrested in Namutumba district and others from Kamuli district and are in custody pending prosecution.
He revealed that those arrested included Malinga and Hajadu Ssekimpi held at Namutumba Police Station, Martin Mwanyi from Nansololo trading centre held at Kamuli Police Station and Aidah Nabirye of Kamuli and detained at Jinja Central Police Station.
The NDA's public relations officer, Fredrick Ssekyana, said they closed 138 drug outlets in the operation that began on June 10, 2019, and ended on June 14, 2019.
"The operation led to the inspection of 261 drug outlets, 270 boxes of assorted medicine estimated at sh94m impounded from 138 drug shops," Ssekyana said.
He said many unlicensed drug outlets at various landing sites had evaded them for quite some time but the operation was very successful as they managed to apprehend them on landing sites like Bwondha, Kisenyi, Galilaaya and Kawongo.
"We discovered 600 freshly supplied units of grip water that were about to expire, in Ntuuyo drug shop in Iganga town. Such drugs are a risk to the community as some unscrupulous individuals engage in relabelling," Ssekyana said.
He said outlets visited included thirteen veterinary drug shops and ten pharmacies.
NDA's southeastern region manager, Muhammad Lukwago said the objective of the operation was to save the public from unlicensed and unqualified personnel handling human and veterinary medicines, crack down on dealers in substandard and counterfeit medicines and hawkers of drugs.
"This cumulatively brings it to a total of 1,206 drug outlets visited since the beginning of the NDA operations in March 2019, including other regions, leading to closure of 592, impounding 1,034 boxes of assorted medicines estimated at sh361m and effecting 38 arrests," Lukwago said adding that the entire operation to date has protected an estimated 296,000 unsuspecting persons of unlicensed and unqualified drug outlets operators.
During the operation in all regions covered veterinary outlets inspected were 71 and impounded 133 boxes of assorted medicines estimated at sh72m.
Lukwago appealed to the public to be vigilant, appreciative, supportive of the NDA in the course of doing their work and urged them to report any anomalies on NDA's toll-free lines 0800101999.
The Jinja Division Police Commander, Vincent Irama, said the Police will always work hand-in-hand with NDA's enforcement officials in operations to crack down on illegal drug shops in Jinja and the Busoga sub-region at large.