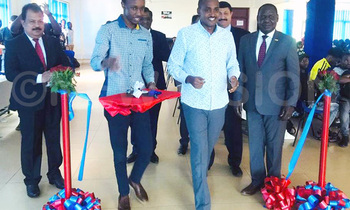 EDUCATION ICT
KAMPALA - The government has pledged to support both public and private universities to undertake outstanding ICT innovations.

The Minister of ICT and National Guidance, Frank Tumwebaze made the pledge while presiding over the launch of ICT applications to aid virtual lectures at Isbat University in Kampala, on Thursday.

While commending the universities taking strides in ICT innovations, the minister noted that the problem of youth unemployment should be solved by creating more jobs through ICT.

This according to Tumwebaze is what the government focusing on and it is implementing several policy interventions to achieve it.

"We want to connect people using the power of the internet and it has become a revolutionizing instrument to the World.

Therefore, the youths should prepare their minds to benefit from it and the ICT students should translate their intellectual ability into property for exportation," Tumwebaze said.

ICT ministry through the National Information Technology Authority (NITA) is implementing the National Backbone Infrastructure Project intended to increased cheap Internet access across the country.

Currently, about 3000 kilometers of fibre optic cable has been laid, about 500 locations connected and the process to lay another 1000 kilometers is one year from now.

"Those WhatsApp and Facebook you are using are people's innovations somewhere. Therefore, since the sectors are advancing, agriculture wants efficiency, commerce wants efficiency, and every sector in life wants a solution that is technology driven, and who can provide that? It is the students of ICT," Tumwebaze said.

If Uganda secures quality education, being spearheaded in partnership with the private and public sectors, it will be good according to Tumwebaze.

The former state minister for finance and the chancellor of Isbat University, Fred Jachan Omach, said the University agenda was to ensure that students are holistically connected regionally, continentally and internationally.

Omach disclosed that the University has innovated three ICT applications. "Blending learning platforms, which is a unique education philosophy that deals with holistic education with all round of development of personalities, empowering lives of every student," he said.

The innovation, according to the University will bring services to the fingertips of the students and enable them to connect with teachers, classmates, and parents, among others.

The other App launched include; the E-sport to enable students to play games with the computer in order to develop their intellect.

The third one is a skilling platform and this will enable students to acquire exceptional skills, which may not be provided for in some academic programmes.