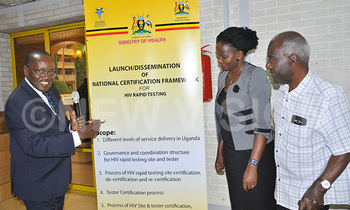 KAMPALA - There are certain medical tests people have before entering a relationship that could lead to marriage. An HIV test often carried out within 15 minutes, is one of them.

However, new guidelines for HIV rapid testing, released by the Health Ministry on Thursday will require some people to wait a little longer before they know their serostatus.

This, according to the ministry, will help rule out any errors.

"Nowadays everyone who tests positive, is subjected to another test using the same algorithm to ensure that by the time one is started on ARVs, he or she is actually positive," said Geoffrey Taasi, the programme officer HIV testing services at the health ministry.

An algorithm is a methodology that is used for testing HIV.

It involves different rapid testing kits arranged in a certain way, and from time to time, evaluated to get the best kits to assemble, to give the most accurate results.

Taasi explained that carrying out a second test comes about when a person's antibodies take time to form or develop.

"There are people whose status you may not be sure of at the time of testing and that is why we have resolved that everyone is subjected to a second test after two weeks. If at the end of the day, we are not sure again, we shall pick off blood samples and send them to the laboratory for a more sensitive or specialized test to determine the status," he said.

If the infection is very recent, Taasi said the antibodies may sometimes not be too quick to detect, hence the need to allow more time for adequate antibodies to be detected.

"This is to ensure that before one is declared positive, he or she is actually positive," he explained.

The new guidelines dubbed, "National Certification framework for HIV rapid testing" are intended to not only promote adherence to national standards of delivering HIV rapid testing but also ensure the availability of competent personnel.

Any health facility conducting HIV/AIDS tests will, going forward, be required to first attain certification from the Uganda Virus Research Institute (UVRI).

Uganda has for over 30 years, been grappling with HIV/AIDS. A total of 1.3 million people are living with HIV/AIDS in the country. Of these, 1.165million are on treatment, leaving a balance of 200,000 people.

Dr. Joshua Musinguzi, the AIDS Control Programme manager at the health ministry said although significant gains have been made, there still remains a challenge of coming up with innovations to help address the disease.

He said the certification framework, therefore, will strengthen both personnel and facilities conducting HIV tests.

HIV testing started in 1990 at only the AIDS Information Centre. Today, all hospitals, health centre IV, III and II, provide HIV testing services.

There are also 7,474 sites providing these services in 3,565 facilities.