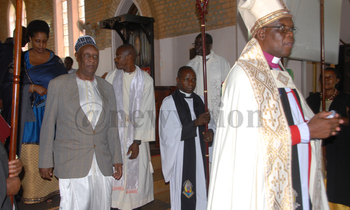 The Omukama Solomon Gafabusa Iguru (behind the Bishop) after thanksgiving prayers at St. Peters Cathedral in Hoima town on Monday
The Bunyoro Kitara Kingdom has held thanksgiving prayers ahead of silver jubilee coronation anniversary for Omukama Rukirabasaija Solomon Gafabusa Iguru.
The prayers were held at St. Peter's cathedral in Duhaga cell, Hoima municipality on Monday.
Traditionally, the kingdom holds thanksgiving prayers on the eve of the coronation celebrations known as Empango. The event takes place every June 11. Omukama Iguru ascended the throne on June 11, 1994.
Iguru, Queen Margret Karunga Adyeeri and the kingdom cabinet ministers led by the Prime Minister, Andrew Byakutaga, attended the prayers.
The entourage of Omukama and his ministers was led to the church, about a kilometer, away from the palace at Karuziika, by a brass band and a cultural troupe.
Iguru, in his message read by his premier, said it is paramount to thank God for the gift of life and for enabling him (king) to turn another year on the throne.
He said the last 25 years of his reign have been marked by key milestones for the people of Uganda such as the discovery of oil and gas and infrastructural developments triggered by petroleum activities.
The Omukama Solomon Gafabusa Iguru (next to Bishop) pose for photos with clerics after thanksgiving prayers at St. Peters Cathedral in Hoima town on Monday. PHOTOS: Robert Atuhairwe
The Omukama said he believes the oil and gas activities and the infrastructural developments will improve the socioeconomic conditions of the people of Bunyoro and the country at large.
Iguru added that the kingdom has sowed seeds in the last 25 years and the fruits are expected to be mature in the coming years.
He urged his subjects to remain united for peace and development, look after their families and conserve the environment.
Bunyoro-Kitara Diocese, Bishop Samuel Kahuma, in his sermon, said it is a responsibility of citizens in the kingdom to work hard to improve their economic status and serve their king.
"The title of Rukirabasaija is biblical and our responsibility is to work for him, contribute financially to his development causes and make him happy," he added.
Bishop Kahuma wondered why some people instead of using their wisdom to develop their kingdom only uses it to undermine it, saying such acts are counterproductive.