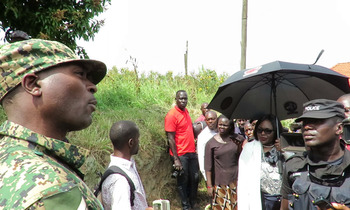 Remember the soldier who blocked the land commission headed by Justice Catherine Bamugemereire?
The commission was inspecting land under dispute in Mutungo, Kampala, in February this year, and Katuriba, who was guarding a military installation, denied them entry, saying he had no orders to let them in. He is back in news. This time not for a confrontation, but a reward.
When Ugandans gather at Kasanje to celebrate Heroes' Day on Sunday, among the people President Yoweri Museveni will reward is Sgt. Julius Katuriba. He is being rewarded with the Rwenzori star and the reason given for receiving the medal is chief actor and most daring.
President Yoweri Museveni will decorate 100 outstanding persons with medals to honour their contribution towards the liberation of Uganda. This year marks the 30th Heroes' Day anniversary.
Among the many awardees at the ceremony set to take place in Kasanje, Wakiso district, are Dr Andrew Lutakome Kayiira (RIP) and The Chieftaincy of Military Intelligence (CMI) head, Brig. Gen. Abel Kandiho.
Dr Kayiira was the leader of the Uganda Freedom Movement, a guerrilla organisation that fought the governments of Milton Obote and Tito Okello between 1980 and 1986. He was murdered on March 9, 1987.
Kasanje, the venue of this year's celebrations, was one of the areas that suffered the wrath of supporting the liberation war with brutal arrests and deaths of the citizens; especially after the botched attack on the Lubiri Barracks by Kayiira's forces in early 1982.
This year's Heroes' Day celebrations will be held under the theme; Celebrating the courageous heroes that brought the peace and prosperity we are enjoying. The event will be used to pay tribute to men and women who exemplified and defended the highest values of patriotism and sacrifice for the wellbeing of Uganda and its citizens.
According to the Minister for the Presidency, Esther Mbayo, the heroic values of Uganda's heroes and heroines; including proven integrity, patriotism and sacrifice, acts of bravery, setting a good example, truthfulness, and love for others, must be celebrated always.
"We owe a great debt to the sons and daughters of this country and all the other heroes and heroines who fought for Uganda to be free. It is a debt we can neither repay, nor ever forget," she said in a statement released earlier this week.
Mbayo urged Ugandans to emulate these national heroes so that Uganda can achieve its ultimate dream of wholesome prosperity.
"As we celebrate this 30th anniversary of the Heroes' Day, all Ugandans are called upon to reflect deeply and seriously on the sacrifices these gallant sons and daughters of Uganda made," she said. Below is a list of people that will be awarded medals today