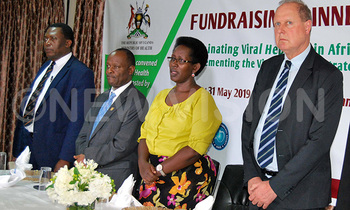 HEALTH

KAMPALA - The Ministry of Health has implored partners to support the regional fight against Hepatitis.

According to the health ministry's Permanent Secretary, Dr. Diana Atwine, it is hard for Uganda to consolidate gains against Hepatitis B with highly infected neighbours.

Dr. Atwine told development partners on Friday that Uganda has since undertaken strategic interventions to fight hepatitis and positive strides have been realised.

This was at a fundraising dinner organised by the ministry in partnership with LifeCare Diagnostic Limited at Hotel Africana in Kampala. The partners raised funds to support African Hepatitis Summit to be hosted by Uganda between June 18-20, 2019.

Hepatitis is defined as an inflammatory condition of the liver. The condition can be self-limiting or can progress to liver fibrosis (scarring), cirrhosis or liver cancer.

The disease is caused by a viral infection although there could be other causes of hepatitis. For instance, a condition described as autoimmune Hepatitis results from medications, drugs, toxins, and alcohol.

The disease prevalence rate, according to Government data, is a bit high in northern Uganda compared to the national prevalence and this is partly blamed on the disease spillover from South Sudan reportedly with much higher disease infection rates.

"We want to raise awareness and deal with high infections, which you have heard are very much in Northern Uganda because of neighboring South Sudan which has high infection burden," Atwiine said.

According to the 2016 Uganda Population-based HIV Impact Assessment (UPHIA) survey, the prevalence of Hepatitis B infection among adults stands at 4.3% (5.6% among men and 3.1% in women).

The survey also indicates that the prevalence is highest in the Northern region at 4.6%, while the lowest in the South West region at 0.8%.

Structured under the theme; " Eliminating Viral Hepatitis in Africa; Implementing the Viral Hepatitis Strategy, the first ever Africa summit will support Hepatitis fight efforts by providing a platform that allows Uganda and other African member states to learn from other countries.

It will also be an avenue for African countries to access technical services from the World Health Organisation, Global and Regional Hepatitis Programme as well as discuss the implementation of an intensified national response to the disease with key stakeholders in the field.

According to Dr. Ponsiano Ocama, a lecturer and liver specialist at Makerere University College of Health Science, Sub-Saharan Africa carries a substantial portion of the global burden of viral hepatitis, particularly chronic hepatitis B and hepatitis C.

"About two billion people are exposed to Hepatitis global and 257 million to chronic hepatitis B. Out of 257 million, 60 million are found in Sub-Saharan Africa," Dr. Ocama said.

Atwine confirmed the Government's high level of technical and political commitment in the fight against Hepatitis.

"At a higher level, the fight against Hepatitis B was launched by the President and at the Parliamentary level, there has been a high level of mobilisation to raise funds amidst scarce resources.

We were able to get funds to ensure that we start immunization, we began with the high burden districts and we have been scaling down," she said.

Atwine added that a national strategic plan for the control of Hepatitis B has been developed among others, underlying care and treatment guidelines.

The ministry, Atwine added, has undertaken the training of health care workers to increase awareness and skills to handle Hepatitis B and that they were scaling up to Hepatitis C.

"We have been carrying out screening of the population and mass vaccination of those that are not infected but also sensitising the public on the problems of this disease and how we can avoid it. 11 years ago, we introduced childhood vaccination against Hepatitis and we want to encourage the public to know that once their children are immunized, they are also immunized against Hepatitis B," Dr. Atwine explained.