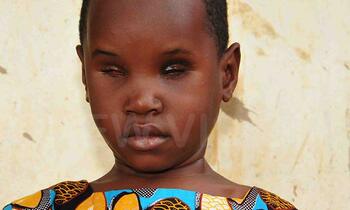 HEALTH

LUWERO- What started as a simple itch in one eye when Amina Nabagesera was younger left her totally blind.

Nabagesera's grandmother, Safina Kasasa of Pida zone in Luwero district, explains that her daughter, Lazia Nakabugo, told her that the child had developed cataract when she had just turned two years.

Kasasa then advised her to take her to a big hospital instead of small clinics. The next time she heard from her daughter, Nabagesera's eye had melted at home as they watched in disbelief!

They later took her to Mulago hospital, where it was discovered that the second eye was also affected with cancer although it had not yet started showing any signs.

"I asked my daughter to bring the girl to my place in Luwero so that I take her to an eye specialist in Mbarara. However, I was told it was too late to get any cure and the second eye was also removed by doctors at Ruharo Eye Centre," Kasasa explains.

Doctors at Ruharo Eye Centre in Mbarara explained that Nabagesera suffered from 'Retinoblastoma' (cancer of the eye) and she is currently under chemotherapy.

Financial assistance needed

The grandmother Kasasa explains that around the time the second eye was removed, Nabagesera's father, whom she only knew as Moses, died in an accident at Nkonkonjeru.

Her daughter, who was devastated after her husband's death leaving her with five children, took three of them including Nabagesera to her(Kasasa) in Luwero.

Kasasa says Nabagesera's drugs cost sh500, 000 a month, which she is unable to get yet the doctors warned her to comply with the medical schedule.

To help Nabagesera get her medicine contact 0782811445 or gkalibbala2@gmail.com