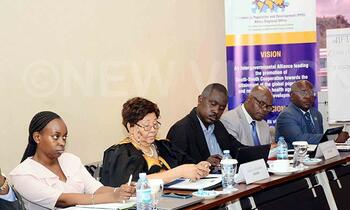 KAMPALA - Leaders of the Network of African Parliamentary Committees of Health (NEAPACOH) have urged members to push for faster implementation of commitments made by their respective governments on health issues during the 2018 Kampala resolutions.

The Kampala resolutions, dubbed 'The Kampala Call to Action2018', during the NEAPACOH at Speke Resort Munyonyo, participants, among other things, committed to addressing Reproductive Health (RP)/Family Planning (FP) issues in their respective countries.

They also committed to advocate for increased government resource allocation towards RH/FP programmess as well as ensure accountability in public expenditures and track the resources, in addition to ensuring the full engagement of their political leadership both at national and local levels.

During their recent executive meeting at Golden Tulip Hotel in Kampala, the executive committee of NEAPACOH emphasized a step up in the budget funding of the health sector focusing on RH/FP as well as Maternal and Child Health to be given priority in their monitoring campaign.

The members resolved to start monitoring and assessing country to country's progress in implementing the commitments made at the Abuja.

While governments in Africa have committed to Sexual and Reproductive Health and Rights (SRHR) in international and regional agreements, like the Maputo Plan of Action on Sexual Reproductive Health, members noted that implementation of these commitments at the country level remains uneven.

Patrick Mugirwa, the programme manager of Partners in Population and Development, Africa Regional Office said Ugandan legislators representing the health committee, committed to pushing for the enactment of the National Health Insurance Bill into law, which will create the National Health Insurance Scheme (NHIS) for all Ugandans.

The bill enacted 15 years back is expected to relieve citizens of the burden of using own cash to spend on medical bills.

He said progress had been made after the Speaker of Parliament directed parliament to prepare and present a Members' Private Bill on National Health Insurance, which he said was a result of the NEAPACOH commitment in 2016, repeated in 2017 and recommitted in 2018.

"We hope the scheme will be key for the universal health coverage and save our people to dig deep into their pockets to meet health bills and will let them access a wide range of health services," he said.

Dr. Luka Tombekana Monoja, a Member of Parliament of the National Legislative assembly of the Republic of South Sudan, however, told members that his country was still struggling to create awareness about reproductive health and other health issues since the country has been in turmoil for the last two years.

"Because of the war, it was not possible for anyone to go out, but now after signing of peace agreements, we intend to go out again in different states to create awareness," he said.

According to Dr. Luka, legislators in the 32 states will soon resume after signing the peace agreement in November to form a national government.

He said the country has not done a national census but project that the country has a prevalence of 3% family planning coverage and maternal mortality at about 780 out of 100,000 and Infant mortality at 82 per 1,000 births.

"Many health services were closed down and health workers run away, but after the peace agreement, we hope they will return because we have many partners willing to support the health sector," he said.

The meeting was funded by the Eastern Africa Reproductive Health Network (EARHN).