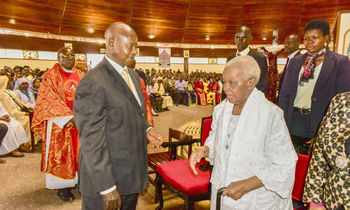 President Museveni shares a light moment with mama Maria Nyerere during Mwalimu Julius Nyerere Day prayers at Namugongo Basilica on Saturday. PPU Photo
President Yoweri Museveni has described former President of Tanzania, Mwalimu Julius Nyerere, as one of the most important personalities in human history in as far as Africa's political unity is concerned.
"For about 4.5 million years ago, which the Western world labeled the dark ages of Africa's underdevelopment, no African fought for the struggle of Africa's unity and independence like Nyerere did. For us Ugandans, we are grateful," he said.
Museveni made the remarks during the annual Julius Kambarage Nyerere Day commemorative Mass at Namugongo Catholic Martyrs' Shrine to pray for the beatification and canonization of the late Julius Nyerere to sainthood.
Museveni joined throngs of pilgrims including about 500 Tanzanians along with Mama Maria Nyerere, widow of the former leader to celebrate Mass led by Monsignor Charles Kasibante, the Vicar General of Kampala Archdiocese.
The Nyerere Day precedes June 3 as millions of Christians make a pilgrimage to the Martyrs shrines in Namugongo to celebrate 22 Catholic and 23 Anglican Christian converts that were persecuted between January 31, 1885, and January 27, 1887, on orders of Kabaka Mwanga of Buganda for refusing to renounce their Faith.
President Museveni addresses members of the congregation during Mwalimu Julius Nyerere Day prayers at Namugongo Basilica on Saturday. PPU Photo
Whereas Nyerere, who is widely revered as having been a staunch Catholic, was not one of the executed Martyrs, a special Mass is held annually to pray for the cause of his beatification and eventual canonization as a Saint.
Mama Nyerere has been a devout champion for the cause over the last 10 years, making an annual pilgrimage to Namugongo despite her advanced age to among others invoke the intercession of the Ugandan Martyrs who were canonized as Saints by the Catholic Church in 1964.
Even as a politician, Nyerere is said to have practiced his faith in concrete ways, attending early morning prayers every day at the St. Joseph's congregation in Dar es Salaam.
He has already been recognized by Rome as a Servant of God, a term used on individuals being investigated by the Church for possible canonization as a saint.
President Museveni thanked Ugandans for ardently recognizing the Nyerere Day and for joining Tanzanian pilgrims led Mama Nyerere and family members.
He said that "Nyerere was our parent who reflects into our memory as a person who was a devoted Christian."
Museveni commended Mama Nyerere's initiative and encouragement to link other pilgrims from Kenya, Democratic Republic of Congo, Rwanda, Burundi, and Nigeria to pray for the cause of Nyerere's sainthood.