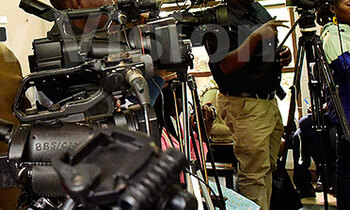 A study conducted by the Uganda Media Women's Association (UMWA) revealed that there are more men than women represented in the media.
The study 'Media for Gender Equality and Social Justice: Leaving no one behind' was conducted to establish the visibility accorded to both women and men in news stories, to analyze the portrayal of both men and women and who of the two delivered which type of stories.
It showed 24% female representation in the news sources compared to 76% of males. For journalists, 32% are female. Worse still, only 15% of news photojournalists are female.
"The survey, which was conducted on media houses in print, radio, and television, was done to identify and address gaps that exist in gender representation and portrayal in the media," Margaret Sentamu, the Executive Director UMWA said.
She was meeting media practitioners in Kampala to present findings on the study from October to December 2018.
"The project was started to respond to gender equality and these results tell that story, women are either not quoted or they rarely appear in the media," Sentamu said.
Joan Nankya, the Project Officer UMWA presented the findings of the study which showed that in print, more men were portrayed in the public sphere, which included politics, violence than women, compared to the private sphere of education, family where women are more.
"Out of 250 news subjects sampled, 27% were women while men are at 40% in the public sphere, whereas in the private sphere, the men are at 19% and women at 25%," Nankya said.
The study also looked at the gender of news subjects by television stations, which found that out of a total of 372 news subjects, 29% were female.
"In the public sphere, 39% were female while 53% were male whereas in the private sphere the women were more at 4% and men were at 3% out of 108 and 264 news subjects respectively," Nankya added.
Emily Maractho, UMWA board member said there was a need to look at media broadly, not news only but other programs like talk shows and other platforms, adding that there was a need for improvement there as well.
"We can also focus on talk shows where topics like politics are discussed and see there is media equal gender presentation there as well," Maractho said.
She also emphasized the importance of diversity to increase the number of women portrayed in the media
"Diversity is one of the most important aspects in the media, radio tries more in diversity because you'll find more women presenting, reading news, all media platforms should endeavour to do the same," Maractho said.
UMWA is an organization that aims to ensure that Ugandan women make informed decisions by accessing their right to information and also to fight for the rights of the women that work on the media, including the bad portrayal in the media.