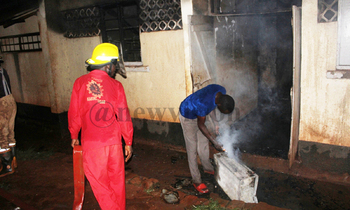 A student checks his smoldering suitcase as a fireman looks on. PHOTOS: George Bita
Firemen battled for close to two hours on Friday night to put out a fire that destroyed Elgon dormitory at Wairaka College.
By the time the combined force of Jinja Police fire brigade and Kakira Sugar Works Ltd contained the flames, property worth millions of shillings had been destroyed.
When New Vision reached the premises near Wairaka trading centre along the Jinja-Iganga highway, two fire engines had been positioned near the burning building to put out the flames.
A teacher who declined to be named explained that the fire started shortly after 7.00pm as students were in classes for prep time.
"The affected dormitory was housing only Senior One learners. None of the children was in the house when the fire started so no fatalities occurred," he revealed.
He added that students and members of staff attempted to contain the fire with standby extinguishers but could not match the might of the huge flames spewing out of windows.
Firemen outside the burnt Elgon dormitory at Wairaka College in Jinja on Friday night
Salim Kagoda, a student-narrated that he had gone out for a short-call when he spotted smoke in the direction of their dormitory.
"I screamed fire! And this drew the attention of numerous other students. However, it was too late to save anything as we were stopped by teachers from accessing the burning dormitory," Kagoda said.
Hilda Namutosi, the school headmistress suggested that an electric short-circuit could have sparked off the fire.
"These are very old buildings constructed over 50 years ago. The wiring has equally out-lived its span hence anything can go amiss to spark off an inferno," Namutosi argued.
Students check through the burnt property to save a few items
She said the affected students could be sent home on Saturday to pick up more property as their mattresses, beddings and other essentials had got burnt.
Eric Sakwa, the Jinja Resident District Commissioner and head of the local security committee expressed concern over the fire saying police had started investigations to establish exactly what happened.