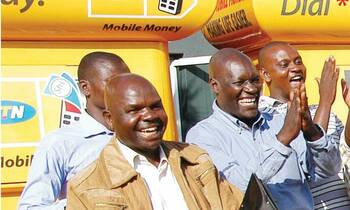 The reality of a cashless society is coming to us, not through plastic, but via the phone, MTN's chief information officer Ali Monzer believes.
"We are no longer simply a money transfer service, we are increasingly becoming a transaction service, where people can now pay for services with our mobile money platforms, save money and even borrow when there is need," Monzer, who now doubles as the general manager mobile financial services at MTN explained.
Monzer said they were seeing more and more transactions being done on their mobile money platforms - people paying for airtime, electricity, water and other utilities using mobile money, as well as shopping.
Ten years ago, MTN Uganda launched mobile money in Uganda, a service which allowed subscribers to send and receive money. "Already majority of our customers purchase airtime using mobile money. We are seeing people retaining the money within the ecosystem.
So going cashless is not far-fetched as it sounds." And a sign of things to come at the time was that there was an increasing number of people holding their money on their accounts for up to 15 days. It would be almost six years, before the savings product MoKash was launched.
In 2017, Bank of Uganda reported that sh63 trillion had been transacted on all mobile money platforms in Uganda. The central bank's 2018 numbers are yet to be published, but there are expectations that it easily surpassed the previous year's number.
"We had at least 100 million transactions monthly and we expect the trend was more like 2017," Monzer said. Given the meteoric rise of mobile money, Monzer is confident that it is still growing.
"Initially, mobile money was seen as a retention tool, to keep subscribers using our services, but now it is seen as a fi nancial tool that is not only a money transfer service, but also a payment solution, savings option, a credit provider and many possible advance services," Monzer said.
"When we started the mobile money as service we used to think like a telcom company, but now as the service has become more successful, we have been, inclined to think like a financial services provider."
Monzer said he had seen a drop off in high value transactions once the Government imposed a tax on mobile money. So, while the transaction volumes continue to rise, the growth is in the low value transactions.
He is not worried. "We are enabling our customers to enjoy the benefits of a 3600 financial service through all the options that we are providing on our platforms — we have MoMoPay, we can do bulk transactions we offer the tools for individuals and groups like SACCOs to save and access credit. We are helping them grow and we shall grow with them."
MoMoPay is one of MTN's most recent services which allows people to pay for goods and services over the mobile money platform.
There are currently more than 70,000 merchants signed accept payments using MoMoPay, but Monzer thinks there are thousands more they need to sign up and they are lining up several promotions to increase activity on this platform.
He says since its launch last year uptake of MoMoPay has been slow, but he is not worried. "When we launched mobile money people at first were slow to adopt it. Then from around 2013 the growth in accounts quickened. We expect a similar trend with MoMoPay, though much faster."
Looking to the future Monzer is particularly excited about an initiative last year where they opened their mobile money platform to outside users and developers. The mobile money Application Programme Interface will allow independent users to plug into MTN's mobile money to benefit from robust payments system.
"From the launch in November, millions are now being transacted on our platform. Safe Boda's mobile money payments are now done through MTN. We are the first in the entire MTN group footprint to do this for our clients," he said.