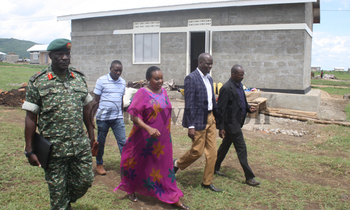 The permanent secretary in the office of the Prime Minister Christine Guwatudde Kintu has assured Bududa landslide victims that were recently relocated to Bulambuli district that the government is going to pay school fees for school going children.
Guwatudde made the revelation on Wednesday during her tour to access the situation and how the victims are coping with the new life in their new homes.
She also revealed that 32 students will be joining Masaba Secondary School in Sironko district, adding that the government by end of this week will have opened up a primary school in the settlement to accommodate the primary school going, children.
"We are assuring you that all your primary school going children will start their studies by Tuesday next week without fail. We have agreed with the Ministry of Education to set up tents where your children will be attending classes," she said.
"Government is going to meet all the school dues and other scholastic materials for your secondary children and we have decided to accommodate them in Masaba Secondary School, " Guwatudde said.
She apologised on behalf of the government for making their children start school late after others had started, adding that the government will also transport the children to Masaba.
Guwatudde noted that 29 students will be sitting for their P.7 final examinations this year, adding that ministry of education will be delivering 120 desks at Bunambutye settlement where pupils will be sitting while attending classes.
She said that four acres of land had been allocated to set up a primary school, adding that pupils will first study in temporally structures and a headteacher has been posted to manage the school.
She said the district has been able to post more seven teachers to the school and they are ready to start work by next week, adding that government will make sure that those in candidate classes are registered and sit for their final exams.
Guwatudde thanked the officials from the prime minister's office that have worked tirelessly to see that landslide victims are relocated to a safe place, adding that parents should make sure their children attend classes.
She also thanked the Uganda People's Defence Forces, the Police, and Prisons for the good work done, adding that the next phase of construction of more 140 units has commenced.
Joseph Kajumba, of the ministry of education, noted that they had received funds from the government to see that school starts by next week