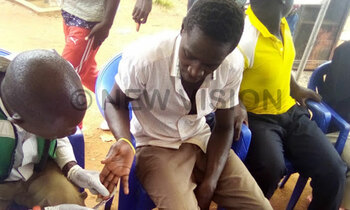 A mosquito-borne infection, malaria continues to affect and kill many across the globe. Sub-Saharan Africa remains more prone to the single most killer disease even in Uganda.
However, according to the Ministry of Health outstanding gains have been registered by Uganda in the fight against the killer disease.
Government data indicate, between 2009 and 2015, malaria prevalence in Uganda reduced from 42% to 19%.
Women go about their business at Busana landing site. (Photo by Nelson Kiva )
The target of MoH in the shortest time possible is to have malaria prevalence reduced to at least 7%.
Dr. Jimmy Opigo, the Malaria Program Manager in the Ministry of Health, says interventions such as the mass distribution of mosquito nets to households in the country have significantly supported the campaign against Malaria.
In partnership with World Health Organization (WHO), UNICEF, the Global Fund, Against Malaria Foundation, United States Agency for International Development, Malaria Consortium, Church of Uganda among others, Government between 2017 and 2018 distributed 27 million nets.
Despite the interventions and gains against the killer disease, some communities along Lake Victoria shores complain of a surge in the epidemic.
Laurence Bonny, a member of the village ship at Busana landing site, in Nyenga sub-county, Buikwe district, says malaria prevalence is high amongst the people in the area.
Appealing to the district health authorities and the ministry of health to immediately intervene, Laurence said most of the children on the landing site were suffering from the disease.
The claims by the landing site authorities were proved by medics from St. John Ambulance and Christ the King Health Center who had a medical camp in the area recently.
Julius Paul Muzale, a clinician and coordinating a health programme called "Mwana na Maama" supported by St. John Ambulance, disclosed 80% of all the patients treated tested malaria positive mainly children.
"We had prepared malaria drugs for about 100 people but we were overwhelmed by the high numbers of people with malaria, we had to send others back," he said.
Adijah Nandera, a resident, disclosed that the problem they face is men go fishing at night and from there mosquito bites are a must.
"Women are always out to wait for men to return from fishing and they buy "mukene" which is our business.
Remember most of the people sleep on papyrus made marts making it difficult to set up mosquito nets for children to sleep under," she said. The landing site has a population of over 700 people.
The World marked this year's Malaria Day on April 25 under the theme, "Zero malaria starts with me," emphasizing a grassroots campaign for communities to empower for malaria prevention and care.
According to WHO's latest World Malaria Report, the estimated number of malaria cases remained virtually unchanged, approximately 219 million globally, in the period 2015 to 2017.
The number of estimated deaths during that same period was 435,000.