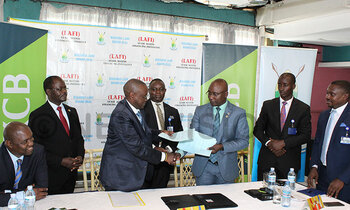 Buganda Land Board has signed a partnership agreement with a local bank, KCB to establish a product that will ease tenants easily obtain certificates of title on Kabaka's land.
Under the arrangement dubbed Lease Access Financing Initiative, funding will be done by KCB Bank, in terms of credit facility to tenants.
Buganda Land Board shall undertake the identification of the rightful Bibanja holders, recommend and forward their applications for financial support to KCB Bank in the process of obtaining a lease to the land or registration certificate from the body.
According to Buganda Land Board, Managing Director, David Kyewalabye-Male, the aim of the partnership is to create awareness among the various Bibanja holders occupying Buganda Kingdom land to ensure their smooth valuation before preparing them land titles and registration of certificates.
"We shall confirm to KCB Bank, the relevant and related information and documentation submitted to KCB Bank, regarding any respective interest of the Kibanja/Bibanja holder upon the said land at a fee to be paid by the Kibanja holder," he added.
The KCB Uganda's Managing Director, Edgar Byamah said upon receipt of Buganda Land Board's recommendation, KCB Bank shall screen all applications of Kibanja/Bibanja holders to obtain all the relevant information regarding the land.
This, according to him will ensure tenants' ability to secure the loan in accordance with KCB Bank's policies and credit guidelines. "We shall subject each interested Kibanja holder to KCB Bank credit appraisal/lending policy and procedures prior to approving any required financial facility/loan," said Byamah.
He added that the client shall execute an internal transfer form of the proceeds of the loan to enable a transfer of the funds to the Buganda Land Board account to cover the costs of procuring a title, search and verification.
On safety of land title certificates, Byamah said the bank shall ensure their safety as a result of agreement and release /discharge any registered mortgage(s) on the title(s) upon repayment of the credit facility by the Kibanja/Bibanja holder.