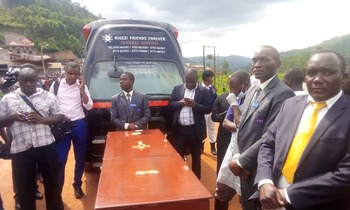 BORDER SHOOTING DEATH BODY
The body of the Rwandan killed at the border has been handed over to the authorities in Rwanda in a ceremony attended by diplomats in Uganda.
On Friday evening, Rwanda soldiers shot and killed Peter Nyengye a Rwandan businessman and Alex Nyesiga, a Ugandan.
The two were killed at Hamisavu, trading centre, Kiruhura village, Kamwezi sub-county, Rukiga district, Rwanda soldiers.
At 3:05pm, the body was handed over to the delegation from Rwanda led by the Nyagatare mayor David Mushabe Claudian.
The handing over of the body comes amidst condemnation from Uganda and denials from Rwanda. Over eight diplomats accredited to Uganda witnessed the handover of the body to Rwanda authorities.
Uganda condemned the killing calling it a provocation, while Rwanda insisted that their soldiers had acted professionally.
Reports indicate that Nyengye attempted to cross to Rwanda on motorcycle loaded with merchandize before citing the armed Rwandan security guard and attempted to turn back.


Two armed Rwandan soldiers chased Nyengye to a distance of about 80 metres into Ugandan territory and killed him instantly.
Nyesiga was also killed when he tried to intervene.