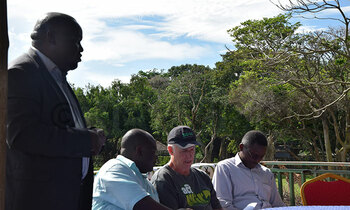 Uganda Wildlife Education Center (UWEC) has partnered with Zoo Victoria of Australia in a bid to fight extinction and secure a species-rich future.
The executive director, James Musinguzi said it is a multi-pronged venture which is expected to bear fruits.
"Paramount is the animal welfare which includes nutrition and veterinary services," said Musinguzi. "This is in addition to capacity building of veterinarians, zookeepers, laboratory technologists, curators, and all required staff."
This is in addition to animal training to improve the visitor experience in addition to carrying out research in veterinary services and animal management.
The UWEC manager of information and education, David Musingo says there is the academic aspect which was aimed at developing a conservation education strategy for Uganda besides the capacity building of education staff, community leaders, youth, teachers, and students in the area of conservation education and wildlife management.
"UWEC will support conservation education programs and activities in communities and schools," explained Musingo. "This will be in addition to the development of conservation education materials to support the teaching of the national school curriculum."
Commenting about the partnership, the minister of tourism, wildlife, and antiquities Ephraim Kamuntu commended UWEC for getting out of the box and improving the facility.
"There is the floating hotel in advanced degrees of completion," hailed Kamuntu. "The onus is to make UWEC a place that cannot be ignored by travelers, researchers, wildlife lovers and people visiting relatives."
The children's playground has since been upgraded; deep fried fish and chips are available in the canteen after feasting one's eyes on mammals, birds, reptiles, and monkeys.