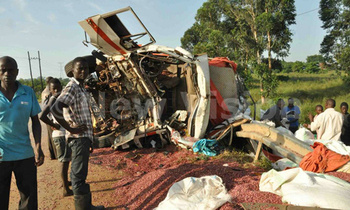 One person was killed on spot and five others seriously injured in an accident involving five vehicles at a place called Bikondo, in Mpigi district on the Kampala-Masaka road.

This accident occurred at around 11:30pm at Bikondo, in Mpigi town council at a climbing lane when a truck number Canter UAX 050M that was loaded with decorating material collided with a truck registration number UBE 735G loaded with sand heading to Kampala.

The driver of the Canter, Owen Tendo, 25, died on spot.

According to Joseph Tulya, the Katonga regional police publicist, the injured include Isma Zziwa a resident of Bweyogerere, Esther Namuleme, 35 and resident of Maganjo, Wakiso district, Mariam Nalwoga, 34, Deogratious Kalyango, Loy Kavuma all residents of Maganjo in Wakiso district.

Tulya said the accident was caused by a taxi, which developed a mechanical problem and got stuck in the middle of the road.

Tulya also said that police recovered bottles of beer from some vehicles which were involved in the accident which points to the fact that some of the drivers could have been under the influence of alcohol.

The wreckage of the vehicles involved in the accident were towed to Mpigi police station.