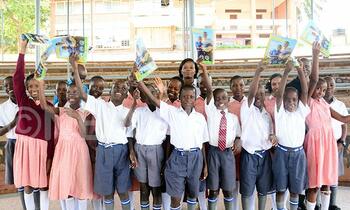 CHILDREN'S RIGHTS |TEENAGE PREGNANCY

KAMPALA - Pupils of Kitante Primary School have appealed to the government to put in place stronger laws to punish parents and relatives who force their daughters into marriage for material gains.

They also demanded that the government puts in place mechanisms to enforce laws against child marriage.

The children also condemned cultures and practices in certain communities in Uganda, which still allow girls below the consent age of 18 to get married and consequently produce children, which they said endangers their health, thereby ruining their future.

The pupils made the appeal at a function at their school where they joined the rest of the children in the World to congratulate India's Dr. Ashok Dyalchand upon his successful election as the 2019 Child Rights Hero.

Kitante PS represented the rest of the children in Uganda between the ages of 10 and 17 from both primary and secondary schools who took part in the voting held in March this year.

At least 22 schools out of a total of 38 were in Kampala and others in Gulu and Bushenyi.

Upon his election, Dyalchand will receive the World's children's prize referred to as the "Children's Nobel Prize' by Worldwide media.

The voting empowers children to become change makers who stand up for the equal worth of every individual, the rights of the child, democracy and sustainable development.

Dyalchand competed for the top prize with several other child rights activists but emerged the winner for his 40-year spirited campaign against child marriage and equal rights for the girl child.

In India, his home country, Dyalchand has not stopped at fighting against child marriages but has also tried to woo boys and men to join the campaign for gender equality.

Mushira Kudula Nakiyingi, a primary six pupil said the practice of marrying off girls before they are mature enough should be discouraged and offenders are given heavy punishments including taking them to prison.

Caroline Auma, a primary six pupil said that it was because of too much desire for money that parents are forced to 'sell-off' their daughters to rich men for marriage.

She, however, said the practice was denying girls a chance to study to get a brighter future.

"We have a problem of some people wanting to get rich, so they force their daughters into marriage with rich men who give them a lot of money and stop others from reporting the matter to the police," Auma said.

Blessing Bagonza also from primary six appealed to fellow girls to always pick the courage and report to police, in case their parents, relatives or guardians try to force them into marriage.

She advised fellow girls to always reject free lifts and gifts from strangers on their way to school and back, saying even during heavy rain, they should never accept to be helped by strangers because it was through such offers that girls have been defiled.

Phinehas Obama said girls getting married at a tender age puts their lives at big risk because they stand the chance of developing complications during pregnancy, which can consequently lead to death.

He also appealed to the government to use the CCTV cameras to identify men who waylay girls on the way to and from school and defile them, so that they can be prosecuted in courts of law.

However, Aaron Sserwadda said that in addition to taking the offenders to prison, heavy fines should be imposed on them to compensate the family and provide treatment and care to the victims.

Other pupils suggested that both parents and schools should restrict mainly girls from unnecessary movements especially in the evening because they face dangers of being defiled by men along the way.

Their patron and teacher, Bernard Egessa said several teachers have been sensitizing pupils, both girls, and boys about their rights and where they can run to in case of any abuse.

The function was attended by John Sserubiri, the technical assistant Uganda Local Government Association, which runs the World Children's programme in Uganda.