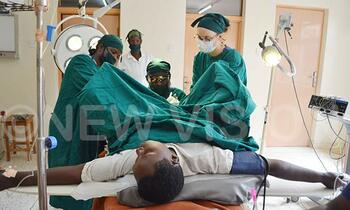 HEALTH

RUKUNGIRI - On the recovery ward, she lies in bed chatting with her elder sister who also doubles as her attendant. Upon greeting her, she lightens up, saying she is feeling much better.

"I have slight pain resulting from surgery but this is not a big issue. My biggest life achievement is the fact that I will not have to leak urine anymore," narrates the overjoyed Peace Ahimbisibwe, 26.

Ahimbisibwe, a mother of three and a resident of Bukinda in Rukiga district has grappled with the shameful condition for the last four years.

"I have been padding myself with old cotton clothes to guard against urine soiling my dress which was really uncomfortable," Ahimbisibwe narrates her ordeal.

She describes herself as conqueror and hardly believes that she has overcome the shame of constantly leaking urine.

Ahimbisibwe's woes started in 2015 after she delivered her fourth baby. She recalls the evening the labour started at about 7.00 pm and was rushed to Itojjo hospital in Ntugamo district. After prolonged labour, the following morning Ahimbisibwe was delivered by C-section. Unfortunately, she did not get a chance to cuddle her bundle of joy. She had delivered a dead baby (stillbirth).

Ahimbisibwe was discharged after two weeks. While she was struggling to come to terms with the loss of her baby, another catastrophe struck.

One morning while she stood up, she noticed her dress was soiled with urine. This was an indicator that Ahimbisibwe has developed a condition termed as vesicovaginal fistula. This is a tear that occurs during childbirth between the vagina and the bladder causing urine to continuously leak.

"At first I thought it was a minor problem. But I became suspicious when the problem persisted," she recollects.

Ahimbisibwe confided in her husband and also asked him for money to go to the hospital for treatment. Unfortunately, Ahimbisibwe's unemployed husband could not provide her with the money to go and seek treatment.

Unable to raise money by herself, the stay home mother silently grappled with the dehumanising condition. Until a week ago, when she heard an announcement on radio mobilising women with fistula to seek repair services during the medical camp at Kisiizi hospital in Rukungiri district.

Determined to regain her dignity, Ahimbisibwe was compelled to borrow sh30, 000 from Kwezika village women savings group. She used sh8, 000 for transport fare and the balance was spent on buying personal effects such as soap and for upkeep.

Ahimbisibwe is one of the 30 fistula victims who have undergone repair during the on-going fistula surgical camp at the medical camp at Kisiizi hospital in Rukungiri district.

The one-week surgical camp organized by the Ministry of Health in partnership with the United National Population Fund (UNFPA) is offering free surgical services to victims.

The lead fistula surgeon, Dr. Francis Banya said the medical camp is one of the activities to commemorate of the International Day to end obstetric fistula under the theme: "Fistula is a human rights violation-end it now".

Dr. Banya who is also a consultant obstetric/gynaecologist at the hospital said they screened 30 women in need of the repair services, the majority had severe rectovaginal perennial tears resulting into constantly passing feaces and very few had vesicovaginal fistula (VVF).

"Some of the women have been living with the severe tears which make it difficult to control stool especially when one has developed diarrhoea. Others have to wear diapers," he said.

Dr. Banya said a perennial tear connects between the birth canal and the anus. Sometimes the tear is so severe that it affects the muscles of the rectum and the sphincter.

Fistula, also termed as childbirth injuries result from unsupervised deliveries especially happening out of hospital, he noted

"Those who deliver in hospital can sustain the tear if the midwife is not keen. However, the advantage is that they can be repaired immediately," he noted.

It costs between US$400 (about sh1.4 m) to have a fistula repair done; an amount that an average Ugandan woman cannot afford. The surgery lasts between 1-5 hours depending on the complexity of the case.

Dr. Banya said the number of fistula victims they register in the hospital has reduced compared to five years ago where they would repair about 45 women with fistula during similar medical camps.

He attributes the reduction to the continuous community sensitization where women are encouraged to deliver in health facilities under the supervision of a skilled health worker.

Prevalence

According to the UDHS 2011 report on the situation of fistula in Uganda, fistula prevalence stands at 4.0% in the western region.

Globally, UNFPA reports that there are approximately 3.5 million cases of the fistula with up to 100, 000 new cases annually with the majority being in Sub-Saharan Africa and Asia.

In Uganda, UNFPA reports 1,900 new cases of fistula are still occurring every year.

In 2018, UNFPA supported more than 1100 fistula repair surgeries, contributing to 1829 fistula repairs done in Uganda.

However, the country is still grappling with 75,000 women living with fistula cases.

Facts about fistula

Sister Nalubega Florence, a fistula surgeon at Kitovu hospital described fistula as a tear that occurs during childbirth between the vagina and the bladder causing the urine to continuously leak.

Nalubega highlighted the common cause of fistula as prolonged labour (spending more than 18 hours in labour)

She said cases of rectovaginal (faecal) fistula also occur especially if the pressure is backward.