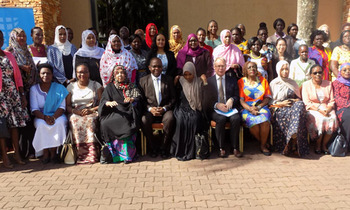 GENDER EQUALITY WOMEN DEVELOPMENT
Women activists, academia and supporters from across Africa meeting at Lake Victoria Serena Hotel in Kigo, Wakiso district have called for the promotion and support for gender equality.

Meeting under the theme Fostering Positive Masculinity for Gender Equality speaker after speaker highlighted the advantages of having a gender conscious society.

Per Lindgarde, the Swedish ambassador to Uganda, said a society that embraces gender equality experiences economic prosperity.

Alvaro Rodrigues, the UN resident co-ordinator for Tanzania, said countries that don't embrace gender equality would not achieve the SDGs goals.

Dr. Sarah Ssali, the dean of School of Women and Gender Studies at Makerere University, said there was need to solve the problems affecting women and men with a single lens. She said many times society thinks only women are victims of rape.
However, there have been instances where men have been raped too. She said there are many cases in the eastern Democratic Republic of Congo.

Lindgarde explained that gender equality was a matter of democracy, human rights and social development and required the contribution of everyone for it to be successful.

The workshops, organized by the UN Women office in Uganda in collaboration with the UN Women Regional Office for East and Southern Africa, had brought on women activists, academia and UN officials from countries such as Tanzania, Somalia, South Africa, Rwanda, Burundi, Malawi, Mozambique and Nigeria.