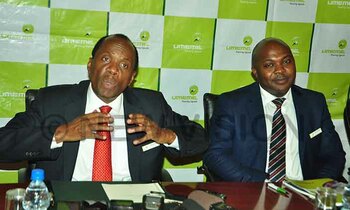 BUSINESS
UGANDA SECURITIES EXCHANGE
National Social Security Fund (NSSF) has hinged its hopes of improvement in Umeme's share price at the Uganda Securities Exchange on conclusion of Umeme's concession extension talks.
NSSF is the largest single shareholder in electricity distribution company Umeme with 376.3 million shares representing a 23.2 per cent of the shares in the company.
As of December 2018, Umeme had 5, 637 shareholders who combined, hold 1.6 billion shares.
Richard Byarugaba, NSSF managing director said the fund is concerned about Umeme's share price on the Uganda Securities Exchange.
Each share, which during the Initial Public Offer traded at sh275 in 2012, was going for sh299 (by 11.00am today), having dropped from highs of sh600 in yesteryears.
"We are aware that (drop) has largely been due to some of the matters beyond the control of the company driven by I believe sentiment," Byarugaba said during Umeme's Annual General Meeting, according to a source who attended the AGM, in Kampala.
"I am hoping the issue of the concession negotiations is resolved because I believe should that be resolved then the sentiment towards the company should change and I should see a revision in the price of the shares,"
He added that because of the delay in deciding on the concession extension, Umeme which uses debt equity to finance investment in the distribution grid might reduce on borrowing, which would impact on the expansion of the grid.
"What are the plans of the company to be able to raise funds in order to be able to continue with investment?" Byarugaba asked further.
Umeme's board chairperson, Patrick Bitature said there are many lenders who are keen to extend credit to Umeme but are keen to first see the concession talks concluded before lending Umeme money.
"One of the bigger funders who has given us funds before gave us a very good offer but tied to the concession extension," Mr Bitature said.
Currently, the company is operating a 20-year concession that it won from Uganda Electricity Distribution Company Limited (UEDCL) following the split of the former Uganda Electricity Board (UEB).
In the current concession, Umeme is enjoying a return on investment of 20%, a figure that officials and the general population say is 'too high'.
The government has appointed a team comprised of officials from the Energy, Finance and Justice and Constitutional Affairs ministries to engage the utility company on key issues in their concession like return on investment.
However, official talks are yet started, according to sources.