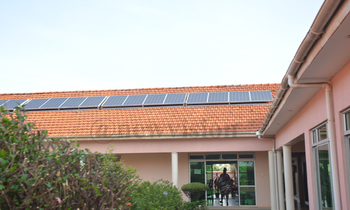 Michael Onen, a boda-boda rider (motor cyclist) in Gulu in northern Uganda knows a lot about the former Prime Minister of the United Kingdom, Sir Winston Churchill who referred to Uganda as the Pearl of Africa many years ago.
When you ask Onen to drop you at Churchill Hotel in Senior Quarters within Gulu, Onen obliges without asking for directions. This was the case recently when I attended a two-day workshop at the Churchill Hotel.
But what happens inside the Hotel is beyond the reach of Onen as he confessed that he has never resided at any of the big hotels within Gulu including Churchill.
"I often have a nasty encounter with the security guards, so I avoid them by keeping off premises with security guards," said Onen, adding that he wants to enjoy the luxury of the hotel one day.
After Onen dropped me at the entrance, I was ushered into the hotel with big solar water panels and water heaters occupying big parts of the tiled roofed buildings.
This is where the power of the sun is captured and turned into electricity. The frequent blackouts in Gulu do not seem to have an impact on Churchill hotel.
The solar heaters cheaply heat the water and visitors at Churchill hotel are sure of a warm shower even when hydro-electric power is off.
In addition, Churchill harvests water from the roof and this has also reduced their water bill. The water is stored in tanks connected to taps.
Green technologies
This is an example of the Green technologies that are part of the Green Economy that seek to save the environment (by providing clean technology) and also promote economic prosperity (sustainable sources of lighting and heating water) and also social inclusion.
According to Subbash Kundu of the Guru Jambheshwar University of Science and Technology, Green technology is a technology that conserves natural resources and limits negative impacts that are used to create products and facilities.
Green technology is based on Green inventions ---- that are eco-friendly inventions that often involve: energy efficiency and recycling, according to Kundu.
Onesimus Mugyenyi, the executive director of Advocates for Coalition for Development and Environment, (ACODE) says the application of Green technologies is still young but it is growing in different countries including Uganda.
Gov't intervention needed
In a separate interview, Ronald Kaggwa, the Manager, Production, Trade and Tourism Planning at the National Planning Authority (NPA) Green technologies create better opportunities for saving money in the long term.
"They are more sustainable and cheaper in the long term," said Kaggwa, adding that the high cost of Green technologies scares off some people but this should not be the case if they consider the long term benefits.
He proposes the engagement of private sector as part of the solution pointing out that banks should have packages (credit facilities) that enable businesses like hotel, industries, and individuals to access Green technologies and pay over time.