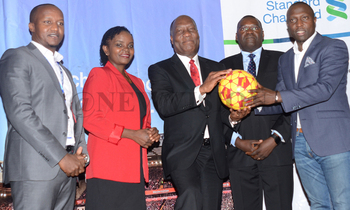 Standard Chartered Bank on Wednesday held draws for the thirty-four (34) teams participating in the Standard Chartered Cup - Road to Anfield 2019 tournament at Kampala Sheraton Hotel - Rwenzori ballroom.
The Standard Chartered Cup - Road to Anfield Tournament is a one-day 5 aside football gala that will take place at the Mandela National Stadium on Saturday.
The 34 teams were drawn in eight groups of four and five (for Group A & H) teams each, with the group games set to be played on a round robin basis. The top two in each group will advance to the round of 16, and the winners will go on a knock out format advancing until the final.
The participating teams of 7 players each, will play 10-minute 5-aside matches (with 2 substitutes).
Standard Chartered Bank Managing Director/CEO Albert Saltson envisages a tightly contested tournament and urged participating teams to work hard in order to win the all-expense paid trip to the UK.
"There is no better time than now to be remotely connected with Liverpool, no matter what club you support because of the phenomenal season Liverpool has had. The more reason you have to work hard on the pitch to be part of history," Saltson said.
"I encourage all teams to put in their best because this promises to be another exciting competition,"
The technical team for the competition also promised good organization.
"We have assembled a diligent, competent and dedicated technical team that will oversee the running of the tournament and ensure that set standards are perfectly met. The likes of Peter Makanga, Ali Kalyango, and Saidi Segirinya along with other dedicated team members of Edgars Youth Programme will ensure the successful progression of the tournament," Dan Mubiru, the Edgars Youth Programme Lead technical support personnel said.
John Mwesigye the Chairman Organizing committee for the competition anticipates a seamless competition said verification commenced ahead of the tournament with companies completing the registration process by sharing the supporting documents.
The field layout will have 4 mini pitches of 40 x 30 metres and these shall be named after the current Liverpool Players: Pitch 1. Mohammed Salah, Pitch 2. Alisson Baker, Pitch 3. Virgil van Dijk, Pitch 4.Sadio Mane
Kick-off is 8 am and it is expected to end at 4:30 pm from which the winner will obtain a trophy and proceed to travel to the UK - Anfield. City Tyres will provide all the footballs for the tournament.
Road to Anfield groups
Group A
Uganda Baati
Baylor College of Medicine
Sanlam Insurance
Bukedde
Ntake Bakery
Group B
Toyota Uganda-B
Uganda Batteries
Sheraton Hotel
NTV
Group C
Malaria Consortium
NWSC
Roofings
CAA-A
Group D
Harris International
Royalway Media
Seroma
NSSF
Group E
Sports Outreach
Hardware World
Monitor
Airtel
Group F
Mengo Hospital
Toyota-A
MTN
Roofings
Group G
Jessa Dairy Farm
Century Bottling-B
Jubilee Insurance
Uganda Breweries
Group H
New Vision
Letshego
City Oil
Century Bottling-A
CAA-B