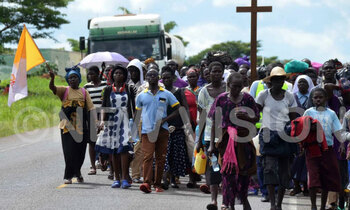 UGANDA MARTYRS DAY

GULU - Over 100 Christians from Gulu Archdiocese are on a pilgrimage of faith to Namugongo Catholic Martyrs shrine in Wakiso district ahead of Uganda Martyrs' Day celebrations on June 3.

They started walking from St. Joseph's Cathedral, Gulu on Wednesday. Fr. Lawrence Komakech, the Parish Priest is leading the group that is trekking the 330km journey.

The Archdiocese of Gulu was chosen by the Uganda Episcopal Conference to animate this year's celebrations of Uganda Martyrs Day.

The archbishop of Gulu, John Baptist Odama, says the diocese needs sh900m to organise the preparations.

The money is needed to fund activities such as liturgy, health readiness, accommodation, transport, communication, and publicity, among others.