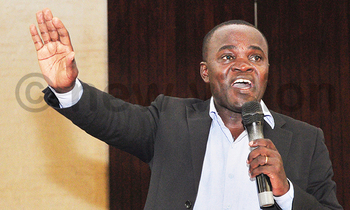 EDUCATION

KAMPALA - Makerere University Academic Staff Association (MUASA) chairman Dr. Deus Kamunyu is set to appeal to the university staff tribunal after he was on Monday suspended by the university for six months with half pay.
Kamunyu who has been at loggerheads with the University management was on Thursday given a final blow by the appointments board that found him guilty.
Kamunyu was suspended after the board found him guilty of failing to adhere to university policies contrary to section 5.7(22) of Makerere University Human Resources Manual.
However, he was acquitted on four other counts of taking part in an illegal strike, use of abusive language acts that are prejudicial to proper performance and slander.
According to the board's judgment, Kamunyu was punished among others for making bribery allegations against top bosses of the university without proof.
In an interview, Kamunyu said he was not happy with the decision of the board adding that he was going to appeal against it.
"I have a grace period of 14 days to file for an appeal to the tribunal. My lawyers will have filed it by the end of the 14 days," he said
"I'm not guilty of the charge that has been leveled against me and will do everything to get justice before the tribunal," he said.
Dr. Muhammad Kiggundu, the director of communications and public relations at the University who confirmed his suspension, said he was free to appeal to get a ruling that satisfies him.
"The appointments board values justice and fairness and came to the decision after scrutinizing evidence carefully," he said
Kiggundu added that they trust the internal system of discipline in the university because it is credible and works independently.
How it began
This semester started with a sit-down strike over suspension of Kamunyu and Makerere University Administrative Staff Association (MAUSA) Chairman, Bennet Magara and general secretary Joseph Kalema.
The strike was lifted after the University Council promised to work on the matter expeditiously.
Kamunyu had been suspended by the university vice-chancellor Prof. Barnabas Nawangwe, who accused him of misconduct and inciting other staff to strike against the university.
He then sued the University and Nawangwe before the civil division of the High Court in Kampala seeking to quash the suspension.
The suspension was subsequently lifted in March after the two differing parties consented before the court.
However, he was required to subject himself to the internal disciplinary process initiated by the appointments board.