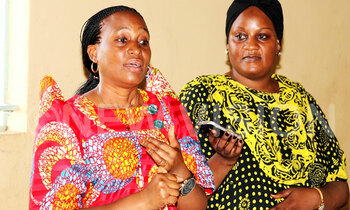 CHILD MARRIEGE|TEENAGE PREGNANCY

RAKAI - About 50 women groups in Lwamagwa sub-county have joined a campaign to fight against child marriages and any form of abuse.

Since 2016, Lwamaggwa has been ranked as the sub-counties with the highest cases of abuses against children in Kooki.

The campaign comes in a wake of new cases of child marriages, and school dropout as a result of teenage pregnancies.

Rebecca Tulituuka, the Omugo (queen) of Kooki Traditional Institution, recently met various groups in Lwamaggwa trading centre, Kakundi, and Lyamunyu villages in Kakundi parish to forge a way forward in curbing the vice.

Tulituuka said the campaign aims at promoting children's rights and build a strong generation of well-informed women. It also focuses on counseling parents, guardians and engaging different stakeholders to protect and keep girls in school to limit the likelihood of getting pregnant.

She appealed to parents and community members in Lwamaggwa sub-counties to always engage the police and local leaders if such cases occur.

She further urged them to support local leaders in enforcing the law against child abuse.

"Girls should always be protected at whatever cost but parents have neglected their role. As a result, it affects the education yet a generation of educated girls is very important in the development of Kooki and the country at large," she noted.

In that regard, local leaders reported that some parents often opt for solving matters outside court due to the wealth promised by the perpetrators' family.

Esther Mugarura, the Lwamagwa female Councilor, said girls are a source of wealth to some parents, adding that they will do whatever it takes to at least earn from their daughters in different ways.

She noted that the majority of child mothers in various communities are suffering from domestic violence and lack independence in decision making.

Mugarura noted that several cases are reported but they are usually sabotaged at police, which encourages more perpetrators.

"We have quite a number of child mothers who face stigma, especially when their peers are at school," she said.

She added that due to counseling services for both parents and children carried out in some communities, the number of teenage pregnancies has gradually reduced while elsewhere the challenge is still high.

Juliet Kinyamatama, the Rakai Woman MP, said local leaders need to team up and design ways of protecting children.

She further appealed to parents to promote morals in different communities in a bid to protect children against any form of abuse.

Apart from Lwamaggwa, the vice is still rife in Kyarulangira, Kifamba, Kibanda, Ddwaniro, Kagamba, Kachera, Kiziba, Byakabanda, and Lwanda sub-counties, puzzling local leaders and civil society organisations.

In addition, children in these communities are exposed to violence including rape and defilement, physical abuse, domestic violence, and forced marriage, among others.

According to the 2014 population census report, 3,362 children were married off between 10-17 years in Rakai.

Lwamagwa Sub-County had 474 married children while Kyalulangira had 190.