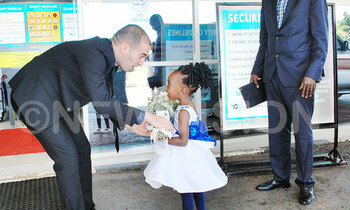 KAMPALA - The Deputy Ambassador of Israel, David Eyal has arrived in Uganda to attend celebrations to mark the 71st Independence Day of the government of Israel.

The celebrations will be held at Kololo Independence grounds on Wednesday.

While addressing journalists at Entebbe International Airport on Tuesday afternoon, Eyal commended President Yoweri Kaguta Museveni for the good relationship between Uganda and Israel.

"The relationship between the two nations is flourishing. The president of Uganda and the Israel Prime Minister Benjamin Netanyahu are close friends. We now see the good bilateral ties and hope it will continue to strengthen the relationship," he said.

Eyal applauded Evangelist Drake Kanaabo, the Chairperson of the Christian for Israel in Africa for making it happen.

Kanaabo said the deputy Ambassador's visit is a sign of solidarity.

"For many years there had been a big gap between Uganda and Israel. I believe that with the ongoing collaboration, God is reconciling the two nations," Kanaabo said.

The Chairperson Uganda Israel Parliamentary caucus, Samuel Lyomoki described the Ambassador's visit as prophetic, which is geared towards making the once sour relationship better.

Lyomoki said similar Israel independence day events have been held in Uganda in the past years which is a sign that God is using such celebrations to erase whatever happened in the past.

Highlighting the magnitude of the existing relationship between the two nations, Lyomoki said some Israel members of parliament will also visit Uganda soon.

In the 1960s, Uganda had a special place with the Israel government. Israel devoted great effort and resources to Uganda.

There was technical cooperation in agriculture, industry, and education. The public and private Israel companies worked on paving roads, building airports, constructing housing and developing water resources.

There was also extensive cooperation in the military. Additionally, hundreds of Ugandan students studied in Israel.

However, the situation changed abruptly in 1972 when President Idi Amin expelled all Israelites from Uganda and adopted a hostile stance.