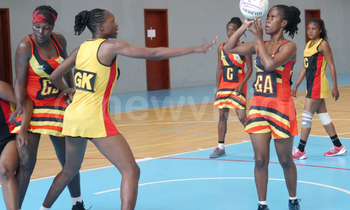 Vitality Netball World Cup
Venue: Liverpool, England
Date: July 12-21
She Cranes assistant captain Lillian Ajio believes the next test matches against Australia and Jamaica will give them a real feel of what they expect at the Vitality Netball World Cup that starts July 12 to 21 in Liverpool, England.
She noted that Uganda beating a lower ranked side Zimbabwe (ranked 13th) is what anyone would expect. Uganda is ranked 7th in the world.
"We didn't feel much pressure from them (Gems) so most of us played a relaxed game, that's why I think the goal margins were that minimal," Ajio said.
"But if we are to play a better-ranked team, then everyone would put in all their efforts."
Uganda beat Zimbabwe in all the four friendly games at the AVRS Secondary school arena, Nakilebe.
They won 57-53 in the first and second games respectively, went ahead to again beat the Gems 58-48 in the third game and 58-54 in the final match that was played last Tuesday.
However, the scores registered by the She Cranes seemed to portray a weakness in some departments like midfield and defence.
But coach Vincent Kiwanuka stated that their intention was to test all the players and come up with the final 12 who will make up the World Cup team.
"It was not an international test series that's why we avoided fielding what we would call our starting seven. We just wanted to make sure all the 18 players in camp are given chance to prove their worth," Kiwanuka noted.
International Friendly match
Results
Game-one
Uganda 57 Zimbabwe 53
Game-two
Uganda 57 Zimbabwe 53
Game-three
Uganda 58 Zimbabwe 48
Game-four
Uganda 58 Zimbabwe 54