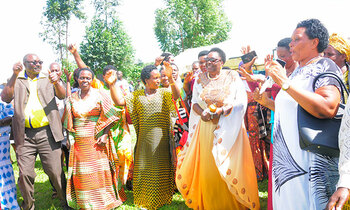 BUSHENYI - The general duties minister Mary Karooro Okurut has advised Ugandans to be patient as the government mobilises funds to fulfill its promises.

Okurut, who is also the Woman MP for Bushenyi district, was on Monday addressing residents of Bushenyi district during an interaction (Eishaazi) meeting at Muga Eco village gardens in Nyakabirizi Division, Bushenyi municipality.

Her remarks came after one of the residents; Christopher Arinaitwe complained that the government had delayed extending electricity to some areas in the district as promised in the previous elections.
However, Karooro asked the residents to be patient as the government is working on its promises.

"Electricity is going to be extended to more areas in the district," Karooro said.

She also told the locals to uphold society's positive cultural values.

Karooro urged the electorates to understand the reasons why they elect MPs.

"We cannot be with you all the time because you elected us," she said adding, " we have a lot of work in the office to do."

Karooro called upon the residents to tap in the existing government's poverty eradication programmes and increase their household incomes.

"Let us heed to the president's call about household incomes," she said.