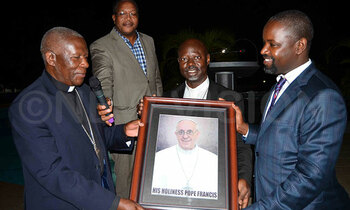 Over 400 international guests are expected to attend celebrations of the golden jubilee of Symposium of Episcopal Conferences of Africa and Madagascar (SECAM), which will be held in Uganda on July 21-28. The guests will come from Europe, the US, Asia, and Africa.

This was announced by the Chairman of the Uganda Episcopal Conference, Bishop Joseph Antony Zziwa, during the launching of the fundraising drive (for SECAM celebrations) at the Sheraton Hotel on Friday.

Zziwa thanked the Catholic laity for loving the Church and supporting its projects. He also thanked the government for its goodwill and financial support towards the function.

The Chairman of the Finance and Fundraising Committee, also MP for Ruhinda North Thomas Tayebwa said they are looking for sh1bn for the local organization of the function.

During the function, a total of sh180m was raised in cash and pledges. The Chief fundraiser, King Caesar Mulenga donated sh25m. His financial pledge was announced by Dr. Francis Runumi, who represented him at the function.

Mulenga also bought a portrait of Pope Francis at sh10m. Other prominent donors included Bukedea District woman MP Anita Among (sh20m), Mogas (sh10m), Centenary Bank (sh10m) and Engineer John Bosco Kariisa, who bought a portrait of President Museveni at sh10m.

The function was also graced by the second Vice-President of SECAM, Bishop Matthew Madega (from Gabon), the Secretary-General of SECAM, Fr Joseph Komakoma and the Secretary General of the Uganda Episcopal Conference, Msgr John Baptist Kauta.

Further to the sumptuous dinner, the guests were also treated to a captivating cabaret entertainment by singer Rockemiller.

About SECAM

The Symposium of Episcopal Conferences of Africa and Madagascar (SECAM) is a body that brings together the Catholic Bishops of Africa and Madagascar.

It was founded in Uganda

The Bishops of Africa, during one of their recent plenaries, decided that they hold the organization's golden jubilee celebrations here in Uganda, where it was also founded.