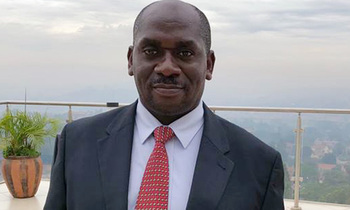 By Deus Mubangizi
It is only fair and humane that the NRM Government addresses the recent cries for safe drinking water from wanainchi.

Cries have come from Nakaseke, where the only borehole in the whole sub-county had broken down, Kasese, where it had to take a presidential visit to attract attention to their water woes, and Buyende where 4,500 residents share one borehole, to mention but a few.
This points to the disastrous situation that the country is facing in regard to people's access to safe drinking water. I recently passed by children fighting with cows over dirty water, with children holding five litre jerricans trying to chase away cows that were drinking what clearly was dirty stagnant water.
It is also a violation of people's (especially children's) rights, when as a country; we fail to provide them access to safe drinking water yet Uganda boasts of vast freshwater resources ranging from abundant groundwater to some of the world's best known freshwater sources.
Uganda is famous for being the source of the mighty River Nile, the longest river in the world and Lake Victoria the second largest fresh water lake in the world! Despite this, millions of Ugandans are condemned to living in the harshest conditions without safe drinking water! Every year, hundreds of cows die due to lack of water.
Yet by setting our priorities right, Uganda can provide 100% safe water coverage for all citizens in the next 2 years, that is, before the end of 2021.
We all know that water is life, so how can we fail to prioritize access to safe water for all our citizens? Can the Uganda government take action and do away with this shameful situation, but also become a shining example for the rest of Africa? In this age of computers and mobile phones, the Internet and WhatsApp, Twitter and Facebook, why should a big section of our people remain without access to safe drinking water?
The 2018-2019 national budget speech put safe water coverage at 71 percent for rural areas, meaning that 29 percent of the population has no access. On the other hand, a research publication,
https://water.org/our-impact/uganda/,
claimed that 61 percent of Ugandans lack access to safe water! Whereas I am inclined to believe the latter because of my day-to-day observations, I will give Government the benefit of doubt and take it by its own budget data. I will, therefore, assume that the budget information was well researched, meaning that about 30% OF UGANDANS, or 12 MILLION UGANDANS, HAVE NO ACCESS TO SAFE WATER!!
In his 2018-2019 budget speech, the Minister of Finance planned for a very low increase in water coverage and I quote:
"…..Madam Speaker, increasing access to clean and safe water is also a critical objective for Government. Water access in rural areas has improved with rural water coverage now estimated at 71 % compared to 68% recorded in 2016. ….Madam Speaker, Government's objective for the FY 2018/19 is to increase access to safe water in rural areas from 71% today to 79%......" emphasis mine.
Clearly, the 2018-2019 plan by the Ministry of Finance to increase safe water coverage for rural areas from 71% to 79% is too paltry! The plan violates the rights of 12 million people from Nakasongola, Nakaseke, Mubende, Mityana, Rakai, Sembabule, Kasese, Karamoja, Ankole, Teso, Busoga, Acholi, and many other water-stressed districts and regions, who spend most of their productive time trekking miles looking for safe water, yet they are also Ugandan citizens!
The problem here is not that the government is doing nothing! No! The government is definitely doing something. However, it is the pace at which the government is doing things that is so painfully slow and insensitive, that it looks ok for children to fight with cows for water! The plan to increase water coverage from 71% to 79% means that Government plans to give 8% (only 3.2 million people) access to water and ensure that 21% (8.4 million people) have no access to safe water in 2020! This is wrong! We are talking of millions of lives here.
This is how the government should provide 100% coverage of access to safe water in the whole country in the next 2 years.
First, technically, there are different water supply solutions available to the government. These include boreholes (both shallow and deep-well), protected springs, gravity flow schemes, solar pump systems, and mini water treatment plants, among others. These can be planned depending on geographical location, population size and density, available types of water sources and the cost per unit volume of water among others.
Second, financially, for purposes of estimation, let us use boreholes, where a single borehole is assumed to serve about 300 people (about 50 homes). This means that for 12 million people, we need about 40,000 boreholes. On average each borehole can cost about sh20m. This would mean a total cost of sh800b! If we are to cater for any uncertainties and inflation in the estimation then, we need say sh1 trillion to provide 100% access to safe water for all Ugandans!
Dedicating a one-off expenditure of 1 trillion shillings out of a budget of close to 40 trillion shillings to have everybody get access to safe drinking water is worthy. Subsequent water supply budgets would be far less, mainly to cater for population growth and maintenance of the installed water supply facilities. It is worth noting that the budget for the 2018-2019 financial year provided 1.3 trillion to the water sector, of which 300 billion is for improvement of safe water access from 71% to 79%.
We also need to remember that full safe water coverage has a tremendous impact on other sectors such as health (diseases caused by lack of safe water) and productivity (walking miles to look for water, and death of animals due to lack of water). According to the World Bank, Uganda loses about 390 billion shillings annually due to costs related to lack of safe water and poor sanitation. This means that the sh1 trillion invested to improve safe water coverage can be recovered through corresponding savings in the health sector alone in just 3 years!
Lastly, capacity to sink many boreholes and construct gravity flow schemes is available locally in the private sector. What is required during implementation is strict quality assurance mechanisms, coupled with strong liability clauses for contractors, to deter them from doing shoddy work and stealing the money. The quality assurance expertise at institutions such as UNBS and the Ministry of Water should be used to manage the quality standards aspects.
Therefore, if the NRM Government is willing, it should eliminate extreme poverty by providing 100% coverage of safe drinking water, which is one of the basics for life. The families can then provide for themselves food, clothing, and shelter through hard work and individual initiative.
The author is a water and sanitation engineer and an expert in standardization and quality management