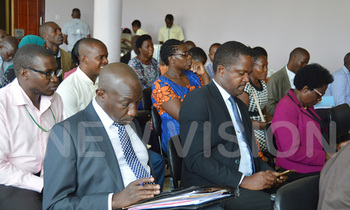 MBARARA - As the staff strike enters day nine, the Committee of Parliament on Education on Thursday met with the top management and a section of staff of Mbarara University of Science and Technology (MUST) in an effort to end the ongoing impasse.

There meeting follows a number of petitions from the guild leadership and members of academic staff who on May 2, 2019, laid down their tools demanding that the Vice Chancellor Prof. Celestine Obua retires in public interest and his University Secretary Melchior Byaruhanga to step aside to allow investigations into the mismanagement of university funds.

The committee led by Jacob Richard, MP of Pallisa County included MPs Joseph Sewungu, Allan Ssewanyana, Nathan Itungo, Sheila Mwine, and Kasibante Moses.

On behalf of his, the University management the meeting was attended by council members, academic staff, and representatives of staffs unions, all deputy vice-chancellors, and the embattled Vice Chancellor Prof. Obua.

The meeting started at around 10: 30 am at Kihumuro main compass.

Some of the people who attended intimated that it was a heated debate where staff told the committee that Prof. Obua had mismanaged the university funds.

As the meeting was going on, the students' leadership led by the Guild President Mike Katongole stormed the meeting venue but police dispersed them.

However, MP Joseph Ssewungu came out of the meeting and told the police's commander Collins Kaganzi to leave them.

"We are here because of these students, we have to listen to them," Ssewungu said.

After the meeting at around 7:00 pm, Julius Taremwa, the secretary general of Mbarara University of Science and Technology Academic staff Association (MUSTASA) told the press that they agreed that the search committee to have the new vice chancellor should start with immediate effect and the forensic audit.

"We are happy that some of our demands have been addressed like the forensic audit, which is going to be done by the office of the auditor general and the search committee which had been frustrated by the incumbent," Taremwa said.

He noted that the committee asked them to suspend the strike. " We are going to hold a General Assembly on Friday at 2:00 pm to inform all staff about the resolutions passed in the meeting.

If they find them convincing enough to suspend the strike, we shall do so," Taremwa said.