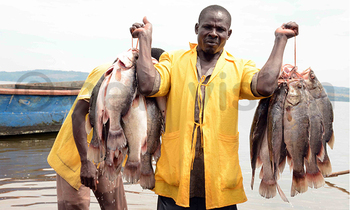 Average prices fish dropped consistently for three months ending the year 2018, the first producer price index for agriculture released on Wednesday reveals.
Average prices for fish dropped by 12.4% in December 2018, higher than an 11.8% decline recorded in November, the survey conducted by the Uganda Bureau of Statistics (UBOS) shows.
The drop was largely a result of a drop in prices for freshwater fish, especially the Nile Perch, following a temporary freeze on fishing to allow fish stocks to recover.
A kilogram of tilapia costs sh8,000 at Nakawa Market, up from sh9,000 while a kilo of Nile Perch costs sh18,000, up from sh20,000. However, traders say the prices are not static.
The producer price index is used by the government and other entities to guide policy and decision-making and by international organisations to monitor and compare economies, among other uses.
The Nile Perch is Uganda's most valuable fish species. An aquatic study conducted in Lake Victoria by Uganda, Kenya and Tanzania in 2017 revealed a 30% increase in stocks.
The latest survey carried out between September and October, shows that quantities of the Nile Perch have increased from 393,335 metric tonnes last year to 457,248 metric tonnes this year.
Across the entire East African region, the volume of the Nile Perch in Lake Victoria was found to have grown from 0.85 million tonnes in 2016 to 1.12 million tonnes in 2017.
The increase in stocks of the Nile Perch was attributed to the enforcement measures against illegal fishing practices that were intensified in Uganda and Tanzania.
The new UBOS survey shows that the prices of several other food crops, except for rice, have also dropped over the last two years.