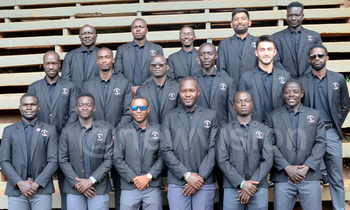 ICC Men's T20 World Cup Africa
May 17-25
Venues: Lugogo and Kyambogo
Trust a man in a suit. There was enough "gentleness" for the gentleman's game when Uganda Cricket Association unveiled the Cricket Cranes squad for the ICC Men's T20 World Cup Africa Qualifier.
There is a place for youngsters on the senior team and that widely opens the door for more prospects. All-rounder Rogers Olipa, in particular, makes his senior team debut.
The 17-year-old has worked his way to the top rising through the U19 team. Zephania Arinaitwe, on the other hand, continues to be a progressive player. He gained loads of experience at an ICC high-performance camp in South Africa in the fall of last year.
Fred Achelam who had been reduced to second fiddle when selectors decided to go for all round players makes the cut as Uganda's number one wicket keeper.
The hosts know what it takes to win this particular event having organised and successfully won it in 2011.
"We face a familiar situation at hand. The stakes are high but we are determined and can maneuver through" said skipper Rogers Mukasa.
For Coach Steve Tikolo, going back in time 2017 for his first assignment which was the ICC World Cricket League Division Three, he was not a proud man seeing his boys condemned to relegation.
There is now a feeling of redemption although now in a different format (Twenty twenty) against Botswana, Namibia, Ghana, Nigeria, and Kenya.
"It was painful last time but we are focusing our eyes on this particular task now. I'm confident the boys are motivated enough" said Steve Tikolo.
Uganda who have never featured at the ICC T20 World Cup, hope to finish among the top two to progress to the global qualifier October and November this year in UAE.
Players: Roger Mukasa Captain, Arnold Otwani, Hamu Kayondo, Zephaniah Arinaitwe, Dinesh Nakrani, Riazat Ali Shah, Deus Muhumuza, Rogers Olipa, Charles Waiswa, Frank Nsubuga, Emmanuel Isaneez, Henry Ssenyondo, Brian Masaba Vice-captain, Fred Achelam
The Reserves: Jonathan Ssebanja, Simon Ssesazi
The Officials
Coach: Steve Tikolo Ogonji. Assistant Coach: Jackson Ogwang Oyuku
Performance Coach: Tim Kearsey. Data/Video Analyst: Alvin Bagaya Mboijana
Physiotherapist: Habiba Kulsum Anguyo Media Manager: Innocent M. Ndawula
Team Manager: Jackson Kavuma.
Fixtures
19 May 2019: Namibia vs. Botswana 9.30am, Lugogo
19 May 2019: Nigeria vs. Ghana 9.30am, Kyambogo
19 May 2019: Uganda vs. Kenya 1.50pm, Lugogo
20 May 2019: Ghana vs. Namibia 9.30am, Lugogo
20 May 2019: Kenya vs. Nigeria 9.30am, Kyambogo
20 May 2019: Uganda vs. Botswana 1.50pm, Lugogo
21 May 2019: Kenya vs. Ghana 9.30am, Lugogo
21 May 2019: Namibia vs. Uganda 9.30am, Kyambogo
21 May 2019: Botswana vs. Nigeria 1.50pm, Lugogo
22 May 2019: Reserve Day
23 May 2019: Nigeria vs. Namibia 9.30am, Lugogo
23 May 2019: Botswana vs. Kenya 9.30am, Kyambogo
23 May 2019: Uganda vs. Ghana 1.50pm, Lugogo
24 May 2019: Namibia vs. Kenya 9.30am, Lugogo
24 May 2019: Ghana vs. Botswana 9.30am, Kyambogo
24 May 2019: Nigeria vs. Uganda 1.50pm, Lugogo
25 May 2019: Teams Departure
EMAIL: kbalikuddembe@newvision.co.ug
TWITTER : @casozi14