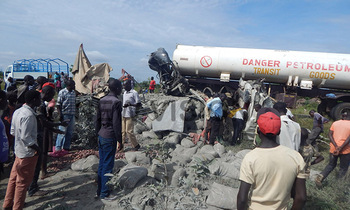 SOROTI- Five people have been confirmed dead while two others sustained injuries in a head on collision road accident involving a fuso truck and fuel tanker along Soroti-Lira highway.
The accident happened around 1:450pm at Ongunai village in Katine sub-county, Soroti district when the driver of the fuso truck registration number UAY 033 G hit a pothole and collided with a fuel tanker Reg.No. ZC 5773/KBH 126X Astros.
The fuso truck loaded with cement, tomatoes and onions was heading to Arua from Mbale while the fuel tanker from South Sudan was enroute to Haledoret in Kenya.
Michael Odongo, the police spokesperson East Kyoga identified the deceased as Moses Golola, Ismael and Musa Nyenda residents of Mbale district while the other unidentified two are Somali nationals.
Their bodies are lying in Nakatunya mortuary in Soroti municipal council, while the injured are admitted at Soroti Regional Referral Hospital.
Odongo blames the accident on over speeding, calling on drivers to eschew the act.