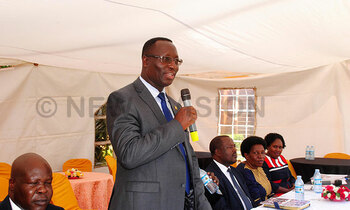 HEALTH
KAMPALA-The Ministry of Health (M.o.H) is working with schools countrywide to draft a school health policy to ensure that pupils and students do not develop malaria while in school.
The coordinator National Malaria Control Programme, MoH Peter Mbabazi told the press during the launch of the National Music, Dance Activities at Kitante Hill School, that his ministry in partnership with the Ministry of Education and Sports in their policy will ensure that the schools have trained school nurses to test and treat students with malaria.
Mbabazi said that in the policy both ministries will take responsibility in what role they have to play. "We shall ensure that each one of us plays his role like who will pay the school nurses and who provides the medicines to the schools," Mbabazi said.
This will help the school administration be able to fight malaria. He said that as a ministry they have realised that school absenteeism in teachers and pupils is due to the malaria disease.
He said that the MoH has to make sure that the schools are free of malaria, he added that although MoH has distributed Long lasting insecticidal nets (LLINs) it has been realized that malaria is still rampant in schools.
The Chairperson of the Technical Committee, of the secondary schools MDD, Dr. Francis Kayanja said that the festival will have sub themes which call for Mass Action Against Malaria (MAAM) while others will include violence against children, Menstrual hygiene and drug abuse as the key message in this year's MDD festival.
The theme for the competition is harnessing young people's potential for Uganda's socio economic transformation.