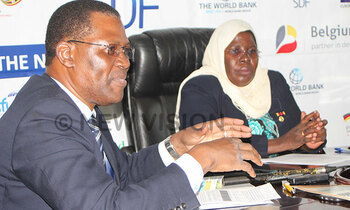 46,559 members of the private sector and mainly youth have been supported by the Government through the Skills Development Facility (SDF) project.
The Ministry of Education and Sports, the Private Sector Foundation (PSF) and the supporting partner Enabel, formerly Belgium Development Agency, revealed the achievement at a press conference held at the MoE boardroom on Monday.
The SDF is part of the $100m (sh360b) which is a Government of Uganda project funded by the World Bank and implemented by the Private Sector Foundation Uganda (PSF).
According to the executive director of PSF, Gideon Badagawa, the youth made more than 80% of the beneficiaries.
The Project, Badagawa said is aimed at promoting employer -led short term training in order to address prevailing skills imbalances and shortages in Uganda.
The grant specialist at the finance ministry, Fredrick Nabbimba, said the project is divided in four windows. The first window according to Nabbimba is meant to address skills gaps in the formal sector and it targets to benefit medium and large enterprises including increased access to internships.
Window two aims at addressing skills shortages in informal sector and the beneficiaries are self-employed workers, master craftsmen, micro and small enterprises and members of cooperatives and associations.
In window three the focus is on innovative training benefiting public or private training institutes and companies that have independent training wings.
Window four recognises prior learning and its beneficiaries include private sector/ industry organisations, trade unions, informal sector associations and training institutions.
Madagawa noted that in the last three years of SDF implementation $3.8m has so far been spent. The $21m (78.4b) worth was committed for skills development fund.
The Commissioner BTVET Hajat Safina Musenne, disclosed that a National Skills Fair 2019 to run from May 7 to 9, at Lugogo UMA show grounds to demonstrate the achievements of the programme.
Organized under the theme, "Skilling Uganda for Competitiveness, Productivity and Employment for Self-Reliance" by MoE with Enabel and PSF, the fair is set to be flagged off by the First Lady and the Minister of Education and Sports, Janet Museveni is likely to flag off the event on Tuesday.
Musene added that the first National Skills Fair in Uganda will bring together exhibitors including producers and manufacturers, employers and training institutions to interact for training and work opportunities.