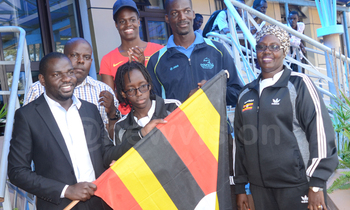 Uganda's only Paralympic swimmer Husnah Kukundakwe Monday finally travelled for the World Para Swimming World Series 2019 in Singapore, after securing an air ticket from the National Council of Sports (NCS).

NCS Corporate Affairs Officer Ismail Dhakaba Kigongo saw off the 12-year-old who will travel with her manager/mum, Hashima Batamuriza at the championship for purposes of getting classification. Kukundakwe will also be hoping to amass points in order to be able to compete in the World Championships in England, as a build up to the 2020 Olympics.

There are 10 different sport classes for athletes with physical impairment, numbered 1-10. A lower number indicates a more severe activity limitation than a higher number.

Kukundakwe currently competes in the S9 (freestyle, butterfly and backstroke), SB8 (breaststroke) and SM9 (Individual Medley) which is due for review at the championship.

"I'm very proud to represent Uganda and when I get to Singapore I hope to raise Uganda's flag high. It has not been easy getting the funding and I thank everyone who has supported us on this journey," Kukundakwe said.

Her Coach Paul Bampata said if Kukundakwe's talent is developed and harnessed she can become an Olympic gold medalist in the near future.

Kigongo said NCS would wish to reach a stage where they can be able to give everyone a chance to represent the country with more funding from government.

"We are confident that Kukundakwe has the ability to qualify for the biggest swimming championships including the Olympics," Kigongo said.

"The funding from government is still below what NCS needs to deliver its mandate; in order to support all federations and athletes who represent this country and are a big contribution to the image and tourism sector of our country," Kigongo stated.

Uganda Paralympic Association president Bumali Mpindi also agitated for more funding towards the association.

Kukundakwe's travel was made possible by Centenary Bank, Stanbic Bank, National Drug Authority, through fundraising and the Uganda National Bureau of Standards and NCS who offered an air ticket each.