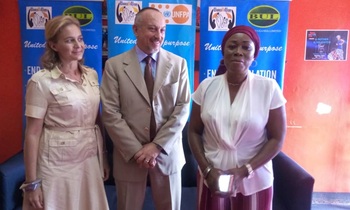 Italian ambassador to Uganda Domenico Fornara has urged government to invest more in health care system so that women who suffer from fistula can be treated.
Fornara said improved health care coupled with sensitisation will completely eliminate the disease. "Fistula is a condition that most times happens during delivery; so it can be treated.
The point is that Government should invest in health centers to allow every woman to deliver in a hospital that has basic facilities to treat this kind of situation," said Fornara.
He said this while donating a sh20m cheque to Women at Work International (WAWI) for supporting fistula fight activities. The event handover took place at the organisation's offices in Kamwokya on Friday.
At the event, Fornara was flanked by his wife Anna Muscetta."Several development partners have empowered a good number of health care centres in order to be able to treat different diseases including fistula, but more needs to be done," said the envoy.
According to Fornara, the donated funds were collected in a fundraising fashion show that took place at Sheraton Hotel in March this year.
"Every time we organise events, we always match them with sensitization campaign and fundraising about fistula. This is very important to us; we believe that it is good to have fun while passing over the message," he said.
The WAWI founder and executive director, Halima Namakula said there are a lot of gaps in mobilization, and creation of awareness about fistula. She said once, sections of leaders engage in creation of awareness, the disease can be eliminated.
"We started to do fistula sensitization campaigns in 2012 when the population wasn't even aware of disease presence. But since then several women have embraced testing for fistula, and getting treatment in case they are found to be having it," said Namakula.
She added that in fact, a lot of people thought fistula disease was a curse or a result of witchcraft but since inception of fistula charity walks, awareness campaign, people's negative mindset about the disease has reduced.
Namakula hailed the envoy for choosing WAWI to be the beneficiary of such donation, saying it will go a long way in supporting organisations's activities.
"Fistula is fixable; we are trying to fight to end it. We can't forget this financial support and we are grateful," she said.