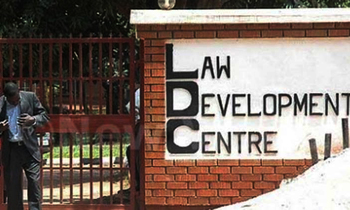 LAW

KAMPALA - The polarising debate on the pros and cons of subjecting lawyers seeking to pursue a postgraduate diploma in legal practice at the Law Development Center (LDC) to special exams, might soon be consigned to the archives after it emerged that a Bill to explicitly stop the exam was in the offing.

A private member's Bill, the piece of legislation that is seeking to amend the Advocates' Act to explicitly stop the Law Council from conducting pre-entry exams, is being pushed by the legal and parliamentary affairs committee.

According to the legal committee chairperson, Jacob Oboth-Oboth, "the draft Bill is ready" and meetings with stakeholders will be conducted soon. According to sources at Parliament, LDC is scheduled to be among the first stakeholders to interface with lawmakers next week.

"The amendment is not seeking to strip Law Council of powers to regulate training of advocates, but rather to stop it from requiring qualified lawyers to sit a special exam as a prerequisite to pursuing the Bar Course," Oboth-Oboth told New Vision.

In the early 2000s, the LDC was plagued by a high failure rate among students, as high as 90% in some years.

LDC, together with the Ministry of Justice and Constitutional Affairs and the Uganda Law Society, decided to design changes that include a preadmission written examination set by the Law Council for students.


The rationale behind the preadmission exam was to weed out half-baked lawyers and admit only the very best to the Bar Course.

The exam entails basic knowledge in six subjects which all lawyers are expected to be conversant with — contract law, constitutional law, legal methods, civil procedure, law of torts and criminal procedure.

However, over the years, passing the LDC pre-admission exam has proved to be a bar too high for many lawyers. For example, last year, close to 2,000 lawyers failed the exam — a figure that was not out of the ordinary given the past failure rates.

Frustrating lawyers

Last year, the legal committee recommended the scrapping of preentry exams to LDC, reasoning that it is simply acting as a barrier to lawyers seeking to get admitted to the Bar Course.

At the time, justice and constitutional affairs minister Kahinda Otafiire reasoned that LDC had the mechanism to sort out wheat from chaff as the ultimate gatekeeper. And it seems LDC's top echelon still shares Otafiire's reasoning.

"The pre-entry exam was meant to ensure we get quality lawyers for the Bar Course. But over the years, it has become evident that actually poor quality lawyers have been passing it," LDC director Nigel Othembi said.

Othembi said whether with preentry or no pre-entry exam, they would not compromise on quality. "With or without pre-entry exams, we are prepared," Othembi said.

However, Uganda Law Society (ULS) and Law Council are opposed to any attempt to scrap the pre-entry, saying it will grossly compromise quality of advocates.

"Parliament is not well placed to guarantee quality of a profession through legislation. This requires expertise," ULS president Simon Peter Kinobe told New Vision.

Ironically, it should be noted that Parliament has a sizeable number of lawmakers who have failed an exam the committee is seeking to scrap.


Also related to this story

Law Council tells lawyers to prepare for LDC pre-entry

Over 80% lawyers fail LDC exams