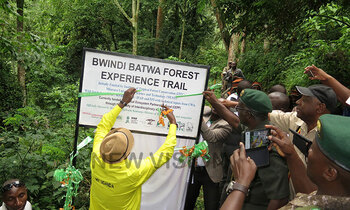 The climax of another tourism product code named Bwindi Batwa Forest Experience (BBFE) is getting into a pitch dark cave which is as big as a tennis court.
Out of nowhere a chorus of songs engulfs the place. When the lights are switched on is when one sees the throne of the ancestral king and where he kept his virgins and new brides.
"Culture sells like hot cake in the tourism industry which is earning the economy $1.5b," said the Minister of Tourism and Antiquities Ephraim Kamuntu at Rubugiri Town Council on Saturday in the famed Bwindi Impenetrable National Park. "People all over the world are curious about the Batwa way of life."
"Fortunately as dealers sell the Batwa Trail as a product they also preserve it for future generation. Everybody ought to become innovative if they are to reap from the booming tourism industry."
kamuntu asserted that culture is an asset Uganda is endowed with that cannot be counterfeited and challenged citizens to preserve and exploit it to capacity.
Talking about the Batwa product Uganda Wildlife Authority (UWA) executive director, Sam Mwandah revealed that it was jointly developed in 2013 together with Nkuringo Cultural Centre and the Batwa community in the southern sector of Bwindi Impenetrable National Park as a tourism product with a major aim of utilising the Batwa rich culture for conservation and improvement of their livelihoods.
"The BBFE has been developed to show case the culture of the Batwa which was mapped and geo-referenced through the beautiful forest of the famous Bwindi Impenetrable National Park," said Mwandah. "Along the trails, tourists are treated to demonstrations of various aspects of the Batwa life style like hunting game, lighting by rubbing hands and a dress code of leaves."
More than 60 Batwa individuals from a population of more than 3500 (Population Census 2002) have been equipped with tour guidance, are having adult education and are selling their music, dance and drama shows to willing buyers. The trail's value has been added with support from Mbarara University School of Science and technology.
"The proceeds from the Bwindi BFFE will target uplifting the well fair of the Batwa community," stressed Mwandah.
The short statured people found in Kisoro, Kanungu, Mbarara, Ntungamo and Rwengo were left homeless when their land, which served as a one stop center for food, gods, medicine, home and dress was gazette in 1991. More than 80 percent of their marginalized populace were left landless.
"The forest is our source of spiritual, physical and emotional well-being," confided an elder John Nyinakayanja. "We can no longer access our shrine to worship god Utagerera. I suspect that's why we face many challenges in life. He is annoyed with us for abandoning him there.