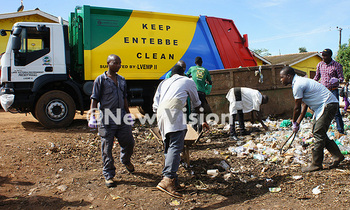 MUNICIPALITY

ENTEBBE - Entebbe municipality has launched a mandatory community service programme, which will have residents, including schoolgoers, engage in garbage collection for at least one hour on the last Wednesday of every month.

Several local politicians took part in Wednesday's cleaning exercise that launched the monthly programme.

Entebbe Municipality MP Rose Tumusiime and mayor Vincent Kayanja De Paul as well as the two division chairpersons Michael Mutebi and Stanley Namayirira participated. Students and residents were also involved.

Town clerk Charles Magumba said all civil servants and technical staff at the municipal council shall be mandated to get engaged in the programme as the municipality gears up to become a city in July this year.

"Residents in every household shall gradually be sensitised on how to sort waste in such a way that decomposing matter shall be separated from polythene and other plastic material before dumping such rubbish in specific skips provided by the municipal council," he said.

Any punishment for individuals in the mentioned category found to have dodged the exercise?

That was not made clear.


On his part, mayor Kayanja said the move was aimed at keeping the municipality up to the expectation of especially foreign visitors.

"This does not imply that residents should relax and wait till that day (last Wednesday of the month] in order to clean their surrounding.

"This is simply a gesture aimed at reminding the citizenry of their role in maintaining a clean and healthy environment," said the mayor.

It was a promising start as several residents were seen cleaning areas around their homes, market places, schools, offices and places of worship.

Resident Christine Naggai hailed the initiative, saying Entebbe residents have always acted as examples to others on matters of sanitation.

Last month, Jinja and Entebbe municipalities launched a schools' sanitation competition dubbed Lake Victoria Inter-local Authorities schools public health competition, which is running for one year under a pilot programme.

The programme includes both primary and secondary schools around Lake Victoria, starting with those from Entebbe and Jinja for the pilot study, before being expanded to other areas that share Lake Victoria as a common natural resource.


Also related to this story

Jinja, Entebbe towns launch schools sanitation competition