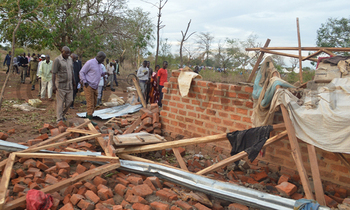 Eighteen people were confirmed dead and over 140 injured after a rainstorm swept through 10 villages in Buyende and Kamuli districts on Monday night. Houses and property were destroyed.
According to a statement issued by Police last evening, 15 of the victims were children below the age of 10. The children included a two-week-old baby, Silagi Bagone.
They also included an 80-year-old woman identified as Eruka Nangobi from Kamuli, the Busoga North Police spokesperson, Micheal Kasadha, said. The Police said 80 people were injured in Buyende.
The storm that started at 8:30 pm on Monday night, ravaged Nabweyo A, Nabweyo B, Nakabembe A, Kabugudho and Itamia villages in Kidera sub-county, Buyende, leaving hundreds without shelter.
In Kamuli, five villages including Balawoli, Namaira, Nabirama, Kasozi and Kakanhu were ravaged by the rainstorm, which disaster preparedness state minister Musa Ecweru described as a "tornado".
Across the affected villages, there was a lot of wailing as the bodies were pulled out of the debris and later paraded in their respective homes.
In the five villages in Kidera, the dead were identified as Lukiya Namususwa, Nusula Tusuana Wicho, Friday Koowa and Tumwebaze.
Others are Tom Kasajja, Dovan Okiya, Stone Byabo, Maculate Igonda, Jackson Waiswa, Angella and Muchweke.
Friday Koowa died with his three children — Nubula Tusuubira, Lukiya Namususwa aid Rajab Tizoomu.
The storm, according to the Kidera sub-county chairperson, William Kiiza Wagumaare, was characterised by winds that were as strong as an earthquake.
Over 900 homeless
The in-charge of Kidera Health Centre II, Dr Anton Kwiri, told journalists that at first, they admitted 70 patients with grievous and slight injuries and 78 yesterday, bringing the total to 148 in less than 12 hours.
"The facility is congested and this is why we referred those especially with open wounds and fractures to Kamuli General Hospital in Kamuli district for further administration," he said.
The Woman MP for Buyende, Veronica Babirye Kadogo, said the disaster left over 900 people without shelter and food.
Kadogo appealed to the Government to intervene with relief items including iron sheets, blankets, food and tarpaulins.
Budiope West MP Robert Musoke said the victims also lack safe water.
The Speaker of Parliament, Rebecca Kadaga, in a statement issued on Tuesday, expressed sadness about the disaster. Kadaga is also the Woman MP for Kamuli.
"I have already contacted the Government to provide relief to survivors, especially those whose houses and gardens were destroyed," Kadaga said.
She said the hailstorms had become violent and resulted in fatalities because of rampant deforestation. She urged leaders at the lower level to check wanton abuse of the eco-system.
Kadaga said the population should be encouraged to plant fruit trees.
New Vision also learnt that similar rainstorms have been experienced in other parts of the country.