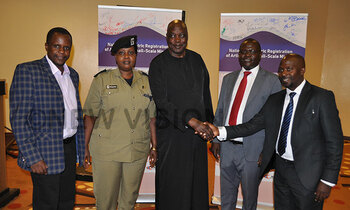 Steps are being moved by Government to improve the economic, social, health and safety environment for artisanal and small scale miners with the launch of the biometric registration study.
The launch of the biometric registration consultancy where finger prints and identification of artisanal and small scale miners will be undertaken is considered a milestone event in the mining sector of Uganda, as the country positions the extractives industries as an instrument for social and economic development.
Artisanal and small scale mining is Uganda has important implications for sustainable development.
However it has received inadequate attention despite its potential to impact livelihoods, provide inputs for domestic economic development, have closer links with the local economy, generate more local jobs and contribute to poverty reduction.
Artisanal mining provides a direct and indirect source of livelihood for over one million men and women, over half of which are engaged in production of industrial minerals to serve the construction industry demands for the country's growing population.
The miners generally use basic tools such as pick axes, hammers, shovels, hoes, spades, and wheel barrows.
Their activities are mainly informal and disorganized, un-mechanised and characterized by hazardous working conditions using dangerous chemical like mercury and cyanide.
They are further characterized by poor health conditions, gender inequalities, child labour, problems relating to pregnant mothers and challenges of breastfeeding, absence of toilets and poor sanitation. Some foreigners from the region often join the sector due to lack of regulations.
The miners engage in mining gold, tin, wolfram, iron ore, salt, sand, clay, and dimension stones, construction materials such as granite, limestone, pozzolana and marble. With improved organization of artisanal miners government is likely to improve revenue which should be directed to improving the national economic welfare.
Last Friday, Peter Lokeris, State Minister for Minerals Development officially launched the project dubbed Biometric Registration of Artisanal and Small Scale Miners Project (BRASM) consultancy at Royal Suites, Bugolobi.
The African Centre for Energy and Mineral Policy (ACEMP) will undertake the consultancy that will assist in mapping, registering and coming up with an en effective management strategy for the sector.
The project is geared towards formalizing and regulating the activities of ASMs in the country to achieve their development role in the sector as Uganda to make Uganda prosperous as enshrined in Vision 2040.
Speaking at the launch, Lokeris, noted that government recognizes the development role of the ASM sub-sector, which must be well organized to realize its full potential. The event was attended by representatives of ASMSs from different parts of Uganda, local government officials and MPs.
"ASM is usually portrayed by its negative impacts rather than by understanding and addressing some of the structural challenges they face. The challenges include politics in the ASM zones, nomadic way of operations, influx of migrants, tailings and gaping holes, inadequate technical and financial support and lost revenues to government," Lokeris said.
He said the Government was implementing a Mineral Wealth and Mining Infrastructure Development Project that is aimed at the development of an effective ASM management strategy.
Eng. Vincent Kedi, principal engineer department for geological survey and mines, commended the different civil society organizations that are working with the sector to make it better.
Kedi said more than 90% of the minerals mined in Uganda are produced by ASMs. "More than 80% of the ASMs are unlicensed although they pay fees to local governments and land owners. The ASM sector should be managed as a light industry to ensure that they contribute to development," Kedi said.
He explained that the regulatory framework for the sector is being reviewed to introduce a more progressive licensing regime. He noted that artisanal mining permits and small scale mining licenses will be introduced.
Don Binyina, Executive Director of Africa Centre for Energy and Mineral Policy said they intend to establish the actual statistics of direct and indirect ASMs in Uganda.
He said BRASM project will undertake a biometric registration of all artisanal and small-scale miners, laborers, dealers and agents, issue them with renewable certificates and or permits. He noted they will work with the National Identification and Registration Authority (NIRA) and ICT experts to create the biometric tools to register the miners.
They plan biometric registration process to have an app ("UG-Miner") developed to regulate the movement of miners. They will link the app to the special IDs issued to each and every registered miner linked to a data base managed by the Department of Geological Survey and Mines.
"The project will create a database with all the bio-data of all miners including names, sex, age, location, association's national identification numbers. It will cluster and code the ASMs in accordance with the commodity traded in.
We expect to help ASMs meet international supply chain initiatives, traceability and standards," Binyina said.
Didas Muhumuza, the Coordinator for Extractives Governance work at Action Aid Uganda, their mission is to support marginalized communities to fight social injustices, the organization is committed to continually support the artisanal and small-scale miners in their struggles and work together with government to harness the potential of the ASM sub-sector.
He also pointed out that AAU champions the domestication of the African Mining Vision (AMV), which was assented to by Heads of States and Governments under the African Union in 2009.
The AMV provides for among other key aspects the formalization of ASMs and protection of their rights and livelihoods.
The interim chairman of the Uganda Association of Artisanal and Small Scale Miners John Bosco Bukya said they are working with the energy and mineral resources ministry to ensure that all artisanal and small scale miners will be registered in the planned biometric system.
"As a united force that is regulated with registered members, issues like applying for all kinds of mining licences will become easy and it will be hard for saboteurs to disrupt our operations," Bukya said.
He said that once organised, they will be able to fight challenges like environmental degradation.
The commandant of the Minerals Police, Jesca Keigombe said the biometric registration of ASMs will reduce criminality in the sector. "If a mining commits a crime in any mining area, they can be traced. Migrants who are mining are benefitting more than Ugandans. We want to organize miners so that they benefit from mining," Keigombe said.
She said the registration of ASMs will stop illegal mining, diffuse conflicts in communities and stop quack investors from cheating Ugandans.
Didas Muhumuza extractives governance coordinator, Action Aid Uganda said the regulatory challenges affecting the mining sector have to be discussed, fixed and the natural resources have to be exploited sustainably to benefit everyone.
He said such effort feeds into the policy and regulatory framework to be part of the African Mining Vision (AMV).
AMV is a policy framework that was created by the African Union in 2009 to ensure that Africa uses its mineral resources strategically for broad-based, inclusive development.
A successful implementation of the Vision, Muhumuza said hinges on participation by the private sector, key regional and various stakeholders in Africa.
Muhumuza said that the challenges presented by the poorly organized and managed mining sub-sector, artisanal and small scale miners have greatly disadvantaged ASMs to get gain from the exploitation of natural resources in Uganda.
"This is worse with women and young people who face very tough repercussions since they have remained vulnerable thus being negatively affected by the disenfranchisement. The need for improvement in the sector governance and management is vital", Muhumuza said.
On August 4, 2017, the police and the army evicted an estimated 70,000 artisanal gold miners from mining sites in Kitumbi and Bukuya sub-counties, in then Mubende District, now Kassanda district.
The eviction shattered the livelihood of hundreds of miners and other business people who were providing various services in the informal mining area.
The eviction followed a protracted conflict between the artisanal miners and mining companies AUC as well as Gemstone International, which companies have gold exploration licences in the area.
The government said the eviction was intended to begin a process of formalization of artisanal mining activities country wide.