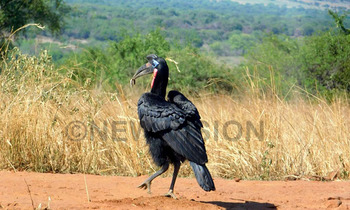 When the Southern Hornbill falls in love it is forever. I mistook it for a black turkey when I saw it in Murchison Falls National Park last weekend. It has a large black bill.
"But females have a blue patch of bare skin below the bill," said a guide Charles Engena. "The immature ones are brownish black and have a short bill."
They are usually seen in pairs or what are called small family parties walking through the open grass.
"It rarely flies except when threatened," added Engena. "That is when the white feathers are exposed."
We heard one call ho! ho! ho! and the other responded from a distance.
"Oh I remember one other characteristic of this bird," said Engena. "I guess they are assuring eachother of undying love. With them if one is widowed, the other soars so high and deliberately loses control before crash landing to death!"
Asked about the big size of their beaks, Uganda Bird Guides Association president Herbert Byaruhanga says,
"The beaks help them contain the heat found in places where they live." "They serve as ventilators through which 60 percent of its heat evaporates. This is in addition to enable it hunt for fish, small mammals, reptiles, fruits and insects during its life span which can stretch to 50 years in captivity."
Traditionally in Central, Eastern, Western and Northern Uganda it is known as the bringer of rain. Wherever it is seen, rainfall follows shortly.