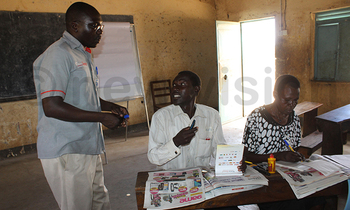 Schools in the Karamoja sub-region have been encouraged to form debating and reading clubs if they are to improve the academic performance of their learners.
During the Newspaper in Education (NiE) training for teachers and Alternative Basic Education for Karamoja (ABEK) facilitators from Moroto district on Saturday, John Eremu the New Vision Features' editor noted that schools need to form reading and debating clubs to build confidence and improve children's vocabulary skills.
"If you don't know how to read, you will not understand what is written. That is why our children are failing. They have limited vocabulary and cannot comprehend questions but the newspaper will help build their vocabulary and comprehension skills," Eremu says.
He revealed that building these skills can be easily achieved especially in schools where the New Vision in partnership with Save the Children Uganda under the NiE project is providing free copies of newspapers in Nakapiripirit, Moroto, Napak and Kotido districts.
According to Eremu, all the great leaders are good readers and good debaters since they are always informed and confident.
Regarding teaching, Eremu revealed that newspapers make the teaching of hard concepts in subjects like mathematics and science easier.
Jackson Kimanayi, a teacher from Naitakwae Primary School in Moroto district noted that since his school started using newspapers as instructional materials learners' reading ability has improved and their English language is improving.
"Children can now speak good English they pick most of the words from the newspapers. Since most stories are structured in a composition they can easily read and get to know the meaning of most words," Kimanayi says.
He said the school has a debating club and always pupils pick news items from the newspapers to read on assembly.
Margaret Nakiru a facilitator from Kwamwo Learning Centre in Moroto says children are showing high interest in lessons where newspapers are used than in other lessons.
"There is a lot of interest and we are going to amplify this interest by forming a readers' club and also a debating clubs. I didn't know the importance of these clubs but now I will ensure my school has them," Nakiru says.
To Charles Okoho, from Namatwae ABEK centre after being trained on how to use newspapers concluded that his teaching will now be easy.
"I think from the demo I have seen here it will be easy for me to deliver my lessons because I will be able to involve my learners. I wish I was introduced to this technique earlier," Okoho says.
The head teacher of Naitakwae Primary School Joseph Korebe commended Save the Children Uganda and the New Vision for coming up with the NiE innovation.
"With the use of newspapers learners are able to get information which they would have not gotten during the classroom," Korobe says.
Karobe who is also the chairperson of Moroto District Head-teacher Association said that all teachers need to embrace the philosophy of NiE in their schools.
"As human beings, we learn fast the things we discover on our own. We can't forget them. So when children discover new words in the newspapers and learn to read they will never forget," Korobe says.
Newspaper in Education is not a subject but an innovative concept that uses the newspaper to deliver the curriculum.
The newspaper is a rich source of information that can be used to teach all the subjects on the school curriculum.