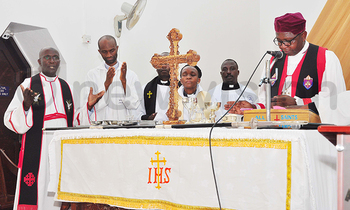 The Archbishop of the Church of Uganda, Stanley Ntagali, has said he is eagerly awaiting his retirement which commences next year on March 1.
Ntagali said he is ready to take his bow and scale down on the routine that has characterised his three-decades-long church ministry service.
The head of the Anglican Church in Uganda made the remarks while giving his sermon during the Easter service at All Saints' Cathedral in Kampala.
He was born March 1, 1955, and was ordained to serve the ministry in 1981. Ntagali succeeded Henry Luke Orombi.
"This is our very last Easter together as Archbishop. Our minds are ready. I and my wife Beatrice are counting down. I am almost making 65 years, and I will not even add a day. People think I am young but I have seen it all. We are about to retire but the Lord who called us has blessed us," said Ntagali.
Ntagali has been at the chief steward of the Anglican Church in the country since 2012. He is also Bishop of Kampala.
Prior, he was Bishop of Masindi-Kitara from 2004 to 2012.