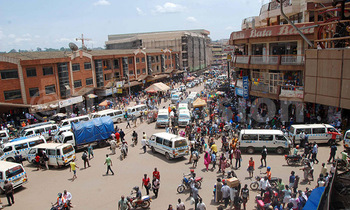 EASTER MOOD

KAMPALA - The celebration of Jesus Christs' resurrection usually sends many to the streets shopping and preparing for Easter.

The New Vision took to Kampala streets to capture the mood.

To our surprise however, it was business as usual, this time round.

'Where are the crowds?' We asked ourselves.

Moderate traffic was cited on Jinja road, Entebbe road, Bombo road and Namirembe road.

Down town Kampala markets and shopping arcades too, had moderate or usual clients.

Those we talked to however confessed to attending church service on Easter Sunday as the most important occasion, contrary to the usual massive shopping tradition.

"It's important for every person to attend church service in order to appreciate the gift of life God has given you. If Jesus hadn't died for us, everyone would be suffering." said Mary Najuka who deals in second hand clothes.

From Najuka's remarks, we sought to find out how churches are preparing for Easter.

Ivan Naijuka, the communication officer at All Saints Cathedral in Kampala called upon believers to come as early as possible because the first service will start at 7:30am, the second service will start at 9:30am and the last one will kick off at 11:30am.

"All services will be conducted by the Archbishop of the Church of Uganda, Stanley Ntagali." Naijuka said.