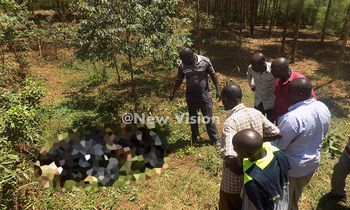 WARNING: This story contains details that some readers may find disturbing


CRIME

IBANDA - A headless body of an unidentified woman has been found dumped in a bush in Ibanda Municipality in Ibanda district.

The corpse was found Thursday without clothes and in a bush, according to the area local council chairperson, Savino Tinkamanyire.

It was partially wrapped in a black bag, with a knife and clothes found next to the body. The gory scene revealed the body's head, nipples and private parts missing - believed cut off by the victim's attackers.

The nails were also missing, providing strong conviction that it could have been a ritual murder.

Local Police received reports of the discovery from pedestrians who stumbled upon the body.

One crime officer at the scene, who did not want to be named, said the victim is believed to have been murdered, transported and dumped at the scene during night time.

"Basing on the fresh blood found, the murder happened a few hours ago and given that there is no mess at the scene, the body was just dumped here," he said.

Ibanda district police commander Emily Angomoku confirmed the incident and said detectives had began investigating the murder.

The body of the woman believed to be in her 30s was later moved to Ruhoko Health Centre IV mortuary for a postmortem examination.